Beyoncé in British Vogue: She looks more stunning than ever
Businesswoman, artist, and perfectionist – the one-woman powerhouse shares some interesting things about her in an interview with the magazine.
Beyoncé has been revealed as the cover star for British Vogue's December issue. Vogue announced that with the rollout of three different covers. 
The first picture features Beyoncé on the ground wearing her new Ivy Park drop in a bright lime color, the other depicts the singer wearing a Mugler bodysuit, and the third features her squatting in a power-shoulders Alexander McQueen ensemble.
All pictures look flawless. In one of the photos! We must admit that she looks the most beautiful in the long red dress with an open back, which emphasizes her figure and has an interesting detail on her buttocks.
Kennedi Carter, a photographer whose work mainly focuses on Black subjects, shot the pictures.
Her appearance in the issue comes with a rare and special interview conducted by Vogue editor-in-chief Edward Enninful. They spoke over Zoom, and the producer, musician, and fashion designer admitted that the events of 2020 have changed her.
Beyoncé plans to slow down and have fun
She had learned that she needs to stay calm and still. Now, she truly cherished the time spent with her family. She said for Vogue that her new goal is to slow down and shed stressful things from her life.
Also, her most important goal is to have fun. We know that fun feels like a radical act right now, considering everything that is happening in the world.  However, at 39, she is a woman happy in herself, in her prime, happy in her healthy body, so she wants to claim the power of that. 
The singer reminds us of the impact of joy
In the middle of this madness, Beyoncé́ wants us to remember the impact and rebelliousness of a simple concept: joy. We mustn't forget to find joy wherever and whenever we can!
However, in the interview, she speaks also about the pandemic, the Black Lives Matter movement, and how these events affected her as a parent. Beyoncé has three children with husband Jay-Z – Bu Ivy, and twins Rumi and Sir. She says that her job as a parent is to do her best for her family to live in a more positive and safer environment.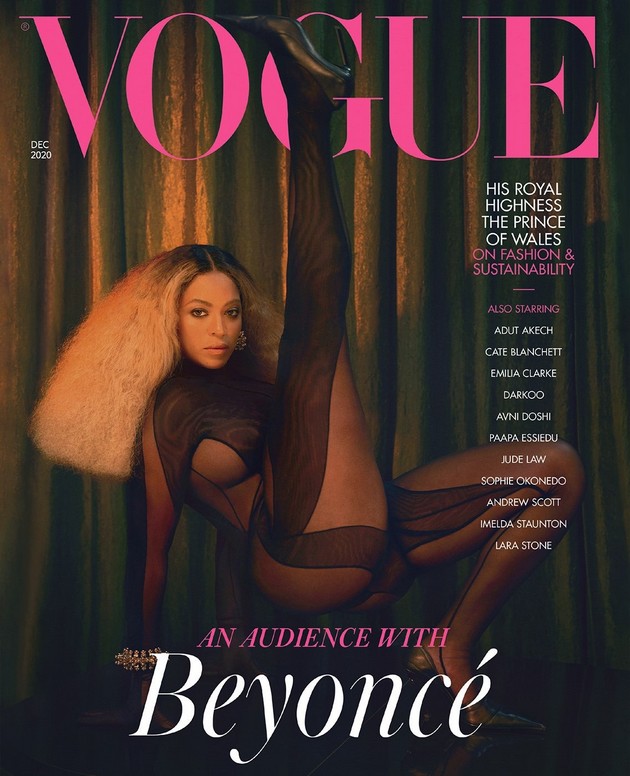 She admitted that she has been working non-stop – she has put out projects constantly.  Beyoncé released Lemonade during the Formation world tour, became a mother to the twins, played at Coachella, directed the concert film Homecoming, had another world tour with her husband, and then directed the film Black Is King. We can see that she has been focusing a lot on building her legacy and representing her culture the best way she can. Now, we can understand her decisions to give herself time and permission to focus on her joy.
We urge you all to find joy in these difficult times, and don't be hard on yourself!
Gwyneth Paltrow released her first vibrator
Gwyneth Paltrow is no stranger to selling a variety of wonderful wellness products, like her bondage-style bras, vagina-scented candles, and crystal-infused water bottles.
Gwyneth Paltrow on her healthy lifestyle platform Goop has sold vibrators for many years, but the brand has never created one. Until now.
When you think of Gwyneth Paltrow's lifestyle and wellness brand, Goop, expensive vagina-related products probably come to mind. Who remembers the gold vibrator that cost $15,000? We certainly do! Oh, and do you remember the controversial jade egg or the 24-karat gold sex toy? And no one can forget the instantly-viral candle – "This Smells like My Vagina" that sold out in two hours.
Well, this Valentine's Day, Goop added an item to their repertoire: the brand's first vibrator.
Meet Gwyneth Paltrow's extraordinary vibrator
She announced her vibrator with an original post on Instagram. It is a pink and white vibrator, which is sold for $95 on the brand's site. The intimate 'wand' doubles as a 'massager' and comes equipped with practical parts, such as a battery with an LED display. The vibrator has already sold out – and has a growing waitlist.
The new Double-Sided Wand Vibrator includes a bendy, slim end for internal or clitoral or internal stimulation and a ball-shaped wand for external vibrations. Both sides offer 8 pulsating patterns, and they vary in intensity. So, you will get 64 different combinations to choose from.
The vibrator's LED battery life is one of the features that you will appreciate the most. It allows you to see how much charge you have left, thus you will avoid the awkward moment when your toy dies just as things are getting so much better. Her team spent a year and a half developing the vibrator, and they accomplished creating a toy that is pure art.
They also wanted the vibrator to be user-friendly and versatile for anyone, regardless of people's experience level. So, the vibrator's pulsating patterns and unique sensations will bring satisfaction to an experienced vibrator user, but it will also be approachable for a first-time user.
Of course, the vibrator's silicone is "body-safe" and hypo-allergenic as well as chemical-free.
Sex is an important topic for Gwyneth Paltrow's Goop
Sex is always an important topic for her brand Goop. The media empire is constantly boosting interest in sexuality and health through a series of announcements, workshops, podcasts, and even Netflix's new The Goop Lab, which it's a must-watch!
Goop's marketing department insists that vibrators not only help you experience sexual pleasure but also improve sleep, mood, and reduce stress.
Gwyneth Paltrow's brand always aims to help eliminate shame and encourage sexual exploration. Thira Burns, MS, Goop's director of product development, wellness, said "We start by listening to experts—and in this case, the best experts are women who are in pursuit of pleasure and seeking more. Through dialogue at past In Goop Health wellness summits, focus groups, and the response to our Netflix show, we learned that there was some simple utility missing from some of the most popular devices."
What are you waiting for? It's time for some intensive vibrations!
What Sarah Jessica Parker says about Kim Cattrall NOT returning
Sarah Jessica Parker, Cynthia Nixon and Kristin Davis teased on social media a 'Sex and the City' revival for HBO Max. However, Kim Cattrall was noticeably missing from the announcement. What did SJP say when one fan suggested she'disliked' Cattrall?
Relaxed tiny kitten having a spa day: Cuteness overload
Watch this tiny kitten having a blast in the spa! It will make your day!