Body detox: Ways to rejuvenate your body
If you feel a little bloated, sluggish, and in need of a little body detox, we offer you some proven ways to rejuvenate your body.
Admit it – you always treat yourself during the summer holidays, indulge yourself in white wine, and some snacks when you are out with friends. But, we finally can spend more time with our friends, so that's fine! However, after a few weeks of merriment, your body will need a little detox.
Luckily, the body has a phenomenal capacity to eliminate toxins. It doesn't require expensive supplements or special diets to do so, but it can repair and rejuvenate itself.
Undo the wrongs you've done to your body
Weight gain, food cravings, less energy, and trouble sleeping. Do these things sound familiar to you? Well, don't worry – these symptoms can be alleviated with lifestyle changes. Regardless of the current state of your health, you can take charge and move towards a healthier life.
We all know that aging is inevitable. However, healthy aging is what matters. Don't let the healthy aging be your unrealized dream! Don't let the years slip by without thinking that your lifestyle will affect your wellbeing. The state of your health is the result of how you treat your body.
"Is that person in the mirror me?" you ask. Those under-eye bags, those lines around your mouth, and that saggy skin. Yes, you cannot rewind the years, but you can rejuvenate your body for sure.
Incorporate these simple ways in your life to detox and rejuvenate your body. Your life will be healthier and more energetic from now on! You can thank us later.
Exercise
We know this way to rejuvenate your body isn't a surprise. But, besides burning calories from your food, exercising will normalize metabolism by establishing balance. Step up your exercise routine and sweat frequently if you want to detoxify your liver.
Exercise will build a healthy body and mind. Choose your suitable and favorite exercise and be consistent about it.
Sleep well
Life has turned many of us workaholics, but we shouldn't let that be an excuse for not sleeping our full quota. Giving you a good night's rest is the best way to detox and rejuvenate your body. Sleep is connected to reduced sleep, weight loss, and improved health. Just ensure the temperature of your room is cool, and give yourself a good 8 hours block to snooze.
Eat and drink your greens
You should start drinking a green smoothie and eating more greens daily. Include parsley, kale, and dandelion spinach, collards that will cleanse your liver. Chlorophyll-rich greens have an active nature and help you detoxify and de-stagnate your bodies.
Drink more tea
The tea will hydrate you and fills you up. Also, it goes perfectly with cookies. You can fully enjoy a nice warm night at home with a cup of tea. And don't worry about the caffeine in tea – it's different from that in coffee. The tea's caffeine is gentle to our system, so you can drink tea even at night. 
Sweat out in a sauna
Saunas are indispensable in the wellness culture in many countries for good reason. Sitting and sweating out will help you detox and rejuvenate via sweat loss. Also, the sauna has skin benefits. So, don't wait and treat yourself with a sauna tomorrow!
Don't throw the pickle juice away – Here are the reasons why
We don't usually think of pickle juice as something healthy, but the truth is that this juice has numerous health benefits since it is rich in electrolytes, nutrients, and antioxidants.
In continuation, you can learn how consuming pickle juice can improve your health condition, prevent some health problems, and advance the body's capacity to recover it. 
So, next time you buy pickles, don't throw the juice away!
Healthy benefits of pickle juice
It's better than any other sport drink
Scientific researchers have shown that pickle juice helps the body to restore electrolytes because it has high sodium levels, which makes it great for athletes. Also, it is used in emergency rooms to help people with cardiac issues. 
It prevents leg cramps
In less than two minutes, it relieves cramps and restores the balance. This happens because pickle juice contains calcium chloride and vinegar, which boost the absorption of sodium and potassium in the body. Many athletes drink this juice after activity to prevent or treat leg cramps. 
It relieves restless leg syndrome
People suffering from Restless Leg Syndrome confirmed that drinking 2-3 ounces of pickle juice relieves their legs. Although it still needs medical confirmation, many people say this method is worth trying.
It calms the stomach
Many people who have tried this juice claim that it is excellent in treating upset stomachs or acid reflux.  You can also use a mixture of honey and vinegar, but drinking pickle juice is a tastier and easier way. 
It helps to avoid hangovers and alcohol odor
Drinking this juice before alcohol consumption balances the electrolytes, which help you to avoid the hangover. Also, you can camouflage the unpleasant smell of alcohol on your breath.
It boosts your health
Pickle juice is rich in vitamin C, calcium, and electrolytes. At the same time, it is really low in calories, which makes it a great way to improve your health and control your weight. Moreover, the high acidic content in this juice boosts the absorption of antioxidants and nutrients in the body. 
How to consume it
While all of these healthy benefits sound good, the thought of drinking pickle juice right from a jar is not as pleasant. But, there are many other ways to incorporate pickle juice into your nutrition:
Add it to the recovery drink or shake you consume after activity.
Add it to salads, such as tuna salad, egg salad, or any other dish where you would add pickles in the first place.
Empower your yogurt by adding several teaspoons of pickle juice. The yogurt will camouflage the taste of the juice.
Add it to the meat or fish marinade.
Use it as a salad dressing. It's great because of the vinegar and salt contained in it.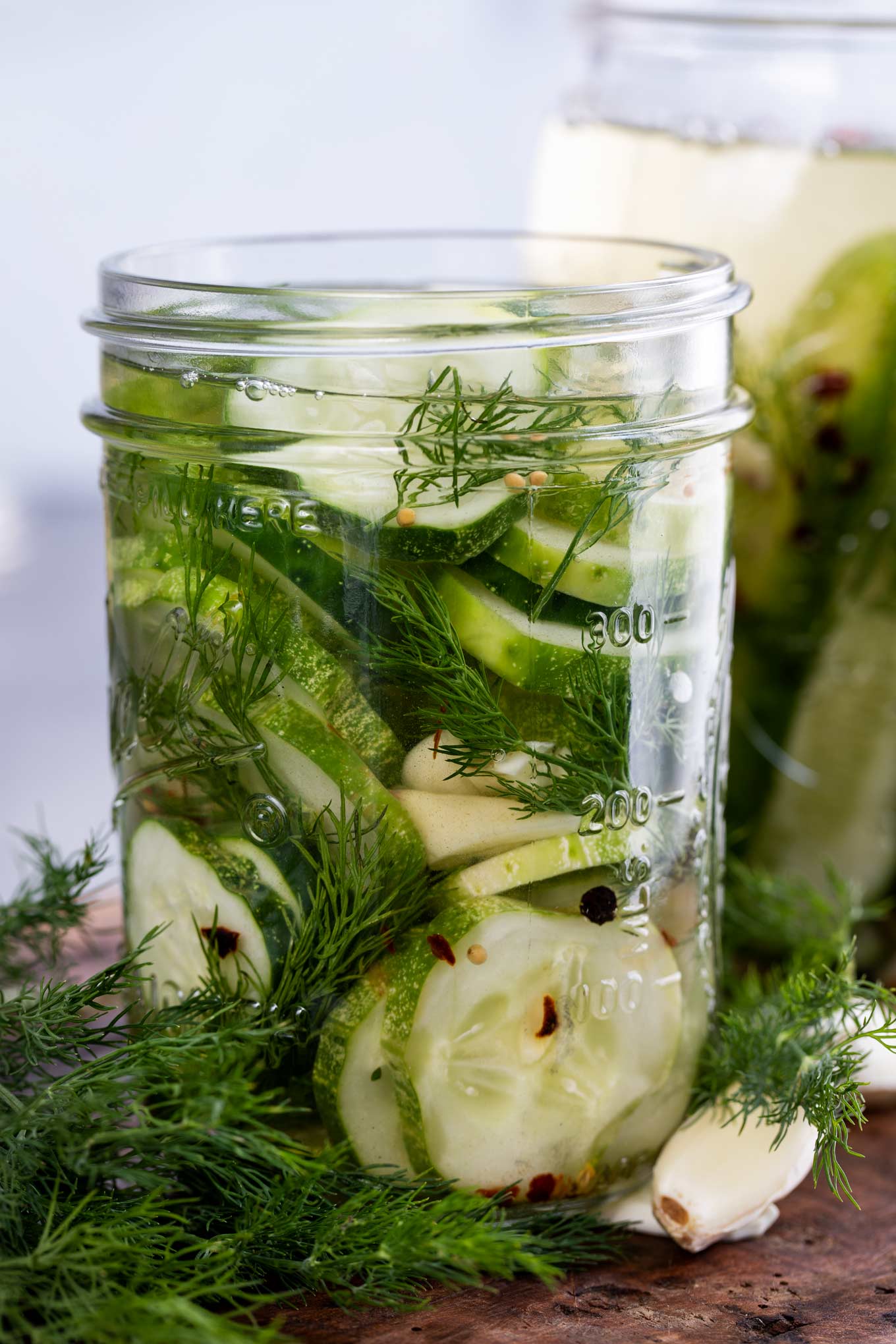 Side effects
Before incorporating it into your daily diet, you should consult your nutritionist. Although there aren't serious side effects, you should be aware of some preexisting conditions.
– Don't drink pickle juice if you are on a low sodium diet.
– If you suffer from joint pain, also avoid this juice.
– Consult your pharmacist if you take medications because they aren't a good combination with the acidity of the pickle juice.
If you don't meet the preexisting conditions above, it's safe for you to consume pickle juice to improve your health. We recommend you avoid pickle jar brands that contain preservatives and additives.
Other ways of use
– To calm itchy skin
Apply pickle juice on the irritated area of your skin with a cotton ball. Be aware to avoid broken skin.
– To revive your plants
Plants that like shade prefer acidic soil. If they have yellowing leaves, it means that the pH value of the soil is too alkaline. In this case, make a mixture of 2 tablespoons of pickle juice and 2 ½ cups of water and apply it directly to the soil by using a spray bottle.
Easy and healthy desserts
These easy and healthy desserts are light on carbs and calories, but they are big on flavor!
Here are our favorite healthy desserts that taste amazing, but are guilt-free! You are going to love these healthy desserts big on flavor but light on everything "bad".
Related story:
Snickers cake with raspberries
Although this cake seems complicated to make, believe us that it is really easy because there is no baking and no difficult steps.
Ingredients for the first layer:
200 g mixture of nuts
2 teaspoons cocoa
200 g of dates soaked in water for at least 2 hours
60 g of coconut oil or about 5-6 tablespoons
5 tablespoons oatmeal (you can leave them out if the mixture is thick enough)
Second Snickers layer:
200 g unroasted cashews soaked in water for at least 2 hours
200 g peanut butter
2 tablespoons honey
200 ml whole coconut milk
Raspberry layer:
250 g frozen raspberries
4 tablespoons chia seeds
2 tablespoons honey
Chocolate coverage:
100 g chocolate chips
5 tablespoons coconut oil
3 tablespoons ground peanuts
Preparation:
To prepare the first layer, put all the ingredients in a blender, but not all at once. First, put the nuts and cocoa to grind, and then the others. To prepare the second layer, put everything in a blender or food processor and you will get a nice cream. The raspberry layer is also simple. Put everything in a blender, but first, let the raspberries soften a little.
Before applying the raspberry layer, wait for the snickers layer to freeze in the freezer for about 1-2 hours. Also before adding the chocolate layer, the raspberry layer must be tightened first.
It is so tasty, rich, healthy, and high in calories, but rich in good calories, so this will be one of your favorite healthy desserts.
Raw bars with sour cherry
This is one of the irresistibly delicious and healthy desserts that are prepared easily and quickly. You can store it in the freezer and have a tasty and healthy snack all week.
Ingredients for the first layer:
125 g coconut flour
4 tablespoons flaxseed
100 g peanut butter
50 ml almond milk
3 tablespoons honey
3 tablespoons coconut oil
Ingredients for the sour cherry layer:
200 g frozen sour cherries
3 tablespoons honey
3 tablespoons chia seeds
On top, we put melted dark chocolate with a little coconut oil.
Preparation:
Combine the flour and flaxseed in a processor, and then I added all the other ingredients needed for the first layer. When the mixture is well combined, put it in a pan on baking paper so that you can easily take it out later.
For the sour cherry layer, you should first unfreeze the cherries to discard the excess water that they will release during unfreezing. Then put them in a blender together with the honey and chia seeds and mix well. Put the cherry mixture in a fireproof dish, so it should not boil or heat too much. Then, pour the cherry layer on the first layer and put it in the freezer to harden, and then take it out, cut it into squares, and put some melted dark chocolate on each square.
Healthy chocolates without baking
Ingredients needed for the bottom layer:
one pack of oatmeal cookies
one handful of walnuts
one banana
2 tablespoons peanut butter
2 tablespoons honey
For the top layer:
100 g dark chocolate
2-3 tablespoons milk
Preparation:
First, put the cookies and nuts in a blender and grind them well. Then add the banana, honey, and peanut butter. The mixture you will get should be very thick. Put the mixture in a cube tray. You can also use baking paper to make it easier to remove.
Melt the chocolate and add a little milk. Pour the first layer with the chocolate sauce. Leave in the freezer to harden, and then cut the cake into squares. You can store them in a refrigerator.
This fruit prevents breast cancer, heart attack, and more
Breast cancer is a phenomenon that concerns most women. But, the good news is that pineapples are a great, natural solution for this problem.
According to the doctors, pineapples are abundant in antioxidants, which make them excellent in breast cancer prevention.
Pineapples are also rich in substances that give the skin elasticity, especially on the breasts, since they are prone to lose their shape along with age. Smoking, consuming alcohol, and coffee can worsen the situation, but pineapples do miracles. You will be amazed by the results!
Pineapple Smoothie
• 1 cup of pineapple (chopped)
• ½ cup of yogurt
• ¼ cup of pineapple juice
• ¼ cup of water
• 3 ice cubes
Blend all the ingredients and consume this smoothie in the morning before your meals.
Health benefits
Pineapple is glorified for its power to reduce muscle and joint inflammation, including arthritis. Millions of people suffer from arthritis, but pineapple consumption will ease the symptoms. Also, the pineapple contains a proteolytic enzyme, bromelain, which breaks down complex proteins, thus providing anti-inflammatory properties. 
Immune system
A portion of pineapple contains 130% of the recommended daily intake of vitamin C, which makes it the most delicious source of ascorbic acid. Vitamin C is well-known for its health benefits. It is a cure for many diseases, boosts the activity of white blood cells, which increases immunity; it is a great body cleanser and reduces the effects of harmful free radicals.
The free radicals are a byproduct of cellular metabolism, which can be very harmful to the vital systems of the body. They are accountable for the transformation of the healthy cells into cancerous. The high levels of vitamin C found in the pineapple prevent such effects.
Tissue and cellular health
Vitamin C is crucial for collagen production, which is an essential protein base of blood vessels, skin, organs, and bones. The vitamin C levels of the pineapple boost wound healing and fight against many skin diseases.
Breast cancer
Pineapples are rich in vitamin C, but also in many different antioxidants, such as beta-carotene, vitamin A, bromelain, and large amounts of manganese, which is a crucial factor of superoxide dismutase (very powerful in the fight against free radicals). Pineapple prevents oral, throat, and breast cancer.
Digestion
Pineapples contain soluble and insoluble fiber. This means that regular consumption of pineapples will protect you from many health problems, such as diarrhea, constipation, bowel discomfort, atherosclerosis, blood clotting, and hypertension.
Fibers ease the food passage through the digestive tract and also boost the release of gastric and digestive juices that help in food desolation. Furthermore, fibers help in treating bowel discomfort or diarrhea. Also, they remove the bad cholesterol from the vessels, which is vital for cardiovascular health.
Bone health
Pineapples are not rich in calcium, but they contain manganese, which is a trace mineral crucial for bone health. They are manganese's richest source, and one portion of pineapple contains 70% of the recommended daily intake of magnesium.
Pineapples are rich in potassium, which is a very important mineral for the body. The potassium reduces blood vessel tension and stimulates blood circulation. When the vessels are relaxed, the blood pressure is low and the blood flow is not constrained, which prevents the clotting. Also, it reduces the buildup of plaque in the vessels, which prevents stroke, heart attack, and atherosclerosis.
Blood circulation
Pineapples are abundant in copper which is another mineral that is crucial for several enzymatic processes such as the creation of red blood cells.
The high level of red blood cells boosts the oxygen supply to vital organs and allows their good function. Moreover, this enhances the cognitive abilities and maintains natural pathways which stop some neural disorders such as dementia and Alzheimer's.