Brad Pitt's new girlfriend is married: Who is Nicole Poturalski?
The husband of Brad's new girlfriend Nicole Poturalski isn't the first husband to find out his wife has a crush on Pitt. However, he is the first one to give a blessing to an affair with the heart-throb.
The German model Nicole, 27, was linked to Brad Pitt last week. Soon after, it was revealed that she is married to a 68-year-old restaurant owner.
Poturalski has been married to Mr. Mary for eight years. Now, there are claims that they have an open marriage. Also, supposedly, she has met Brad Pitt at her husband's restaurant. Mr. Mary has been married four times, and he didn't say anything about his wife and Brad Pitt and his marital arrangements.
The only logical explanation is that they do have an open marriage, and that is why his wife publicly celebrates her romance with the Oscar-winning actor.
Brad Pitt and Nicole were spotted arriving at an airport
The 56-year-old actor and the model arrived at an airport on the outskirts of Paris from L.A. on August 26. They arrived on Brad's private jet. Then, the couple went to Brad Pitt's (and Jolie's) chateau in France. The Chateau Miraval is a £50 million wine estate where he married Angelina Jolie. They still own it jointly.
We must admit that Nicole is one lucky girl! Imagine, the world is in havoc, but you are wrapped in your prince's strong arms in a French castle. Maybe not her husband, but everyone else is jealous that they are enjoying a vacation together.
Poturalski and Pitt may have been together for 9 months
While this relationship feels brand-new, it turns out they have been dating for nine months. There are photos of the couple at Kanye West's Hollywood Bowl concert in November 2019. They are clearly flirting with each other, so if they started their relationship there, they have been together longer than we imagined. In the pictures, they look like they are enjoying a cozy date night.
Though Brad and Angelina have been separated for 4 years, custody battles for their French chateau and their 6 kids have delayed their divorce. Supposedly, some friends introduced Brad and Nico, but when they started seeing each other, they didn't tell anyone about it. Brad has been private about his love life because he didn't want to rock the boat with Angelina. He has been dedicated to making his co-parenting run smoothly. The former couple is still in the midst of divorce proceedings. Brad and Angelina continue to battle it out for their children. So, we can say their divorce is quite messy.
Who is Nicole Poturalski?
The bombshell is a successful fashion model and a mom to one child. She occasionally posts about her son Emil on Instagram. She has graced the cover of German ELLE and is signed to Next Management in LA and A Management in Germany. The German model is probably based in Berlin.
Besides beauty, she has brains, and her ten years in the fashion world have helped her become multilingual. Nico can speak in 5 different languages! Apparently, before she became a model, she hoped to be a marine biologist.
Nicole has been posting about a special someone since February. She wrote in a post that she misses her love, and if the timeline is correct could be Brad Pitt!
Jennifer Lopez poses nude for the cover art of her new song
The 51-year-old singer posted on social media on Wednesday a jaw-dropping nude photo of herself. The photo serves as the cover art for her new single "In the Morning."
Beyoncé in British Vogue: She looks more stunning than ever
Businesswoman, artist, and perfectionist – the one-woman powerhouse shares some interesting things about her in an interview with the magazine.
Beyoncé has been revealed as the cover star for British Vogue's December issue. Vogue announced that with the rollout of three different covers. 
The first picture features Beyoncé on the ground wearing her new Ivy Park drop in a bright lime color, the other depicts the singer wearing a Mugler bodysuit, and the third features her squatting in a power-shoulders Alexander McQueen ensemble.
All pictures look flawless. In one of the photos! We must admit that she looks the most beautiful in the long red dress with an open back, which emphasizes her figure and has an interesting detail on her buttocks.
Kennedi Carter, a photographer whose work mainly focuses on Black subjects, shot the pictures.
Her appearance in the issue comes with a rare and special interview conducted by Vogue editor-in-chief Edward Enninful. They spoke over Zoom, and the producer, musician, and fashion designer admitted that the events of 2020 have changed her.
Beyoncé plans to slow down and have fun
She had learned that she needs to stay calm and still. Now, she truly cherished the time spent with her family. She said for Vogue that her new goal is to slow down and shed stressful things from her life.
Also, her most important goal is to have fun. We know that fun feels like a radical act right now, considering everything that is happening in the world.  However, at 39, she is a woman happy in herself, in her prime, happy in her healthy body, so she wants to claim the power of that. 
The singer reminds us of the impact of joy
In the middle of this madness, Beyoncé́ wants us to remember the impact and rebelliousness of a simple concept: joy. We mustn't forget to find joy wherever and whenever we can!
However, in the interview, she speaks also about the pandemic, the Black Lives Matter movement, and how these events affected her as a parent. Beyoncé has three children with husband Jay-Z – Bu Ivy, and twins Rumi and Sir. She says that her job as a parent is to do her best for her family to live in a more positive and safer environment.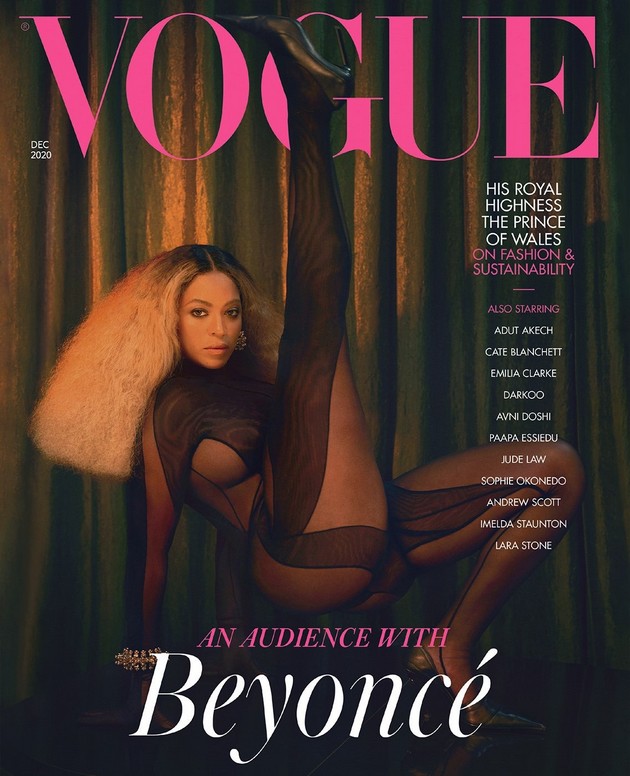 She admitted that she has been working non-stop – she has put out projects constantly.  Beyoncé released Lemonade during the Formation world tour, became a mother to the twins, played at Coachella, directed the concert film Homecoming, had another world tour with her husband, and then directed the film Black Is King. We can see that she has been focusing a lot on building her legacy and representing her culture the best way she can. Now, we can understand her decisions to give herself time and permission to focus on her joy.
We urge you all to find joy in these difficult times, and don't be hard on yourself!
The funniest animals ever
Enjoy the new funniest and cutest videos and try not laugh! Some cats in this video will actually surprise you! And there are dogs that resemble none of their kin in the whole world.