Emily in Paris is full of clichés, but you'll still binge-watch it
Darren Star, the Sex and the City and Younger creator has struck again. This time, it's in the shape of a young Chicago-born woman, who is landing her dream job in Paris. She gets the opportunity to work for a luxury marketing firm in Paris. Okay, what else?
Netflix's Emily in Paris has taken us to the French capital city, and one thing is certain – the clichés are overflowing.
With only 10 episodes, you will be left wanting more, no matter how clichés you will see in the show.
Who needs to speak French in France?
Emily is a portrait of ignorance and arrogance. She doesn't speak French, moves into a high-class 5th arrondissement, and puts on a bucket hat without irony. And she says to her new colleagues that their language is fucked up.
Emily in Paris is full of clichés about Paris and Parisians
According to this series, Paris is a place where fresh flowers match the color of your outfit, and a lace crop top is a piece you choose when you go running.
Emily in Paris has somehow managed to list every possible cliché about Paris and its inhabitants, from the perception of Parisians as arrogant and mean, flirtatious men everywhere, the love affairs, the dog poo, the yummy pain au chocolat, to the red berets. 
Darren Star portrays the French people as slouchy, snobby, and skinny smokers who love seduction and soirees. Emily in Paris feels like it should crumble under the weight of all that sparkle and cliché. And yet – you will hate it, but you will also watch all of it.
Lily Collins, or Emily, spends her days strolling around Instagram-photogenic places in 80s outfits. She dines at expensive restaurants, and, most importantly, she learns the rules of having lovers in the 'French' way. All this is happening while she wants to teach the French people a thing or two.
Another thing worth mentioning, anyone who has lived in France, especially Paris, knows that a "Chambre de bonne" isn't a one-bedroom apartment. It is the smallest one-room studio you have ever seen, which includes your kitchen and bathroom (if you are lucky). Yes, you would need to share the toilet, and it is outside your studio. 
Also, if you mistake your door in your building, your neighbor probably won't be a handsome young man who happens to speak good English, but it will probably be a rather angry person who will shout at you for being an idiot and destroying their door lock. 
However, it is a good escape from reality
Emily in Paris has spent 5 days as one of the top ten shows in Australia, not just for a series but across all titles. Why are we watching this when we have so many ripe alternatives? Well, we think part of the appeal must lie in the beautiful outfits and the episodes that are easy to escape into. At a time when we cannot travel as much as we want, it is good to see those beautiful sceneries of Paris, and dream of better times.
Jennifer Lopez poses nude for the cover art of her new song
The 51-year-old singer posted on social media on Wednesday a jaw-dropping nude photo of herself. The photo serves as the cover art for her new single "In the Morning."
Beyoncé in British Vogue: She looks more stunning than ever
Businesswoman, artist, and perfectionist – the one-woman powerhouse shares some interesting things about her in an interview with the magazine.
Beyoncé has been revealed as the cover star for British Vogue's December issue. Vogue announced that with the rollout of three different covers. 
The first picture features Beyoncé on the ground wearing her new Ivy Park drop in a bright lime color, the other depicts the singer wearing a Mugler bodysuit, and the third features her squatting in a power-shoulders Alexander McQueen ensemble.
All pictures look flawless. In one of the photos! We must admit that she looks the most beautiful in the long red dress with an open back, which emphasizes her figure and has an interesting detail on her buttocks.
Kennedi Carter, a photographer whose work mainly focuses on Black subjects, shot the pictures.
Her appearance in the issue comes with a rare and special interview conducted by Vogue editor-in-chief Edward Enninful. They spoke over Zoom, and the producer, musician, and fashion designer admitted that the events of 2020 have changed her.
Beyoncé plans to slow down and have fun
She had learned that she needs to stay calm and still. Now, she truly cherished the time spent with her family. She said for Vogue that her new goal is to slow down and shed stressful things from her life.
Also, her most important goal is to have fun. We know that fun feels like a radical act right now, considering everything that is happening in the world.  However, at 39, she is a woman happy in herself, in her prime, happy in her healthy body, so she wants to claim the power of that. 
The singer reminds us of the impact of joy
In the middle of this madness, Beyoncé́ wants us to remember the impact and rebelliousness of a simple concept: joy. We mustn't forget to find joy wherever and whenever we can!
However, in the interview, she speaks also about the pandemic, the Black Lives Matter movement, and how these events affected her as a parent. Beyoncé has three children with husband Jay-Z – Bu Ivy, and twins Rumi and Sir. She says that her job as a parent is to do her best for her family to live in a more positive and safer environment.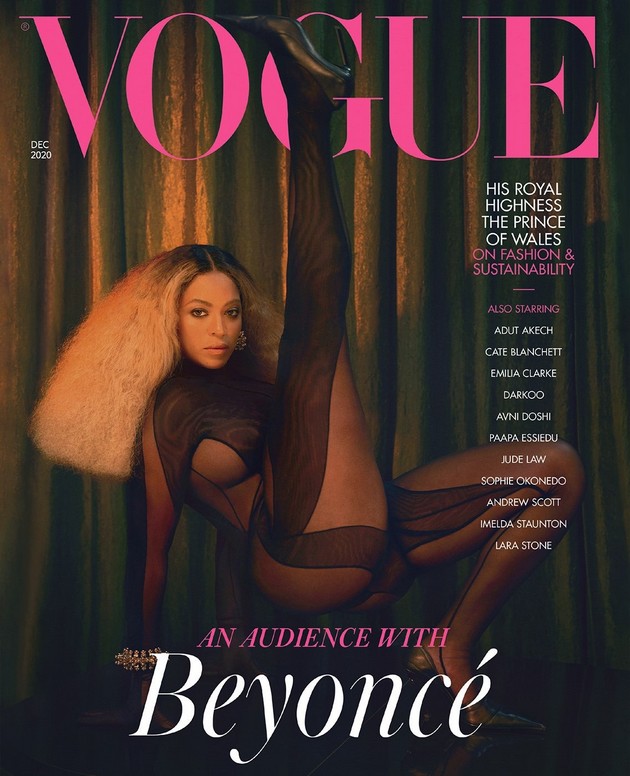 She admitted that she has been working non-stop – she has put out projects constantly.  Beyoncé released Lemonade during the Formation world tour, became a mother to the twins, played at Coachella, directed the concert film Homecoming, had another world tour with her husband, and then directed the film Black Is King. We can see that she has been focusing a lot on building her legacy and representing her culture the best way she can. Now, we can understand her decisions to give herself time and permission to focus on her joy.
We urge you all to find joy in these difficult times, and don't be hard on yourself!
The funniest animals ever
Enjoy the new funniest and cutest videos and try not laugh! Some cats in this video will actually surprise you! And there are dogs that resemble none of their kin in the whole world.