Ways of enjoying your beer better
Whether it was a sip from your parents or a cheap can in college, beer for most of us was our first alcoholic drink. Even though your taste may have expanded and evolved since then, beer is still an old friend, ready to welcome you back at any time.
Today, beer is the most popular alcoholic drink in the world. In every bar, you can find a selection of beers you can enjoy.
However, as popular as this drink is, some people are confused about how best to enjoy this refreshing beverage. Beer's refreshing taste can be maximized! You need to develop a taste for it. Luckily, you can learn to enjoy this alcoholic drink while having fun sampling different types along the way!
Choose the right brand for you
Try different beers. When people think they don't like beer, it's probably because they haven't tried the good stuff. Give different types of beer a chance, from more common brands to exclusive artisanal microbrews.
Try beers you've never had before! Anytime you go out, order a different beer. We cannot begin to tell you how many beers are out there, each pleasing to a different type of palate. You can try ales, lagers, ciders, bitters, stouts, craft beer, and wheat beer. Choose the one that best suits your taste and style.
Try beers from other countries
Don't stick just to the "domestic" beers. You have many foreign varieties available all over the world. Foreign beers often use different brewing techniques or ingredients that result in unique flavors.
Some popular international beers include Heineken (Netherlands), Guinness (Ireland), Ayinger (Germany), Corona (Mexico), Stella Artois (Belgium), and Sapporo (Japan). These foreign beers are imported worldwide and you can find them in your local supermarkets, bars, and restaurants. Maybe your favorite beer will be one of these!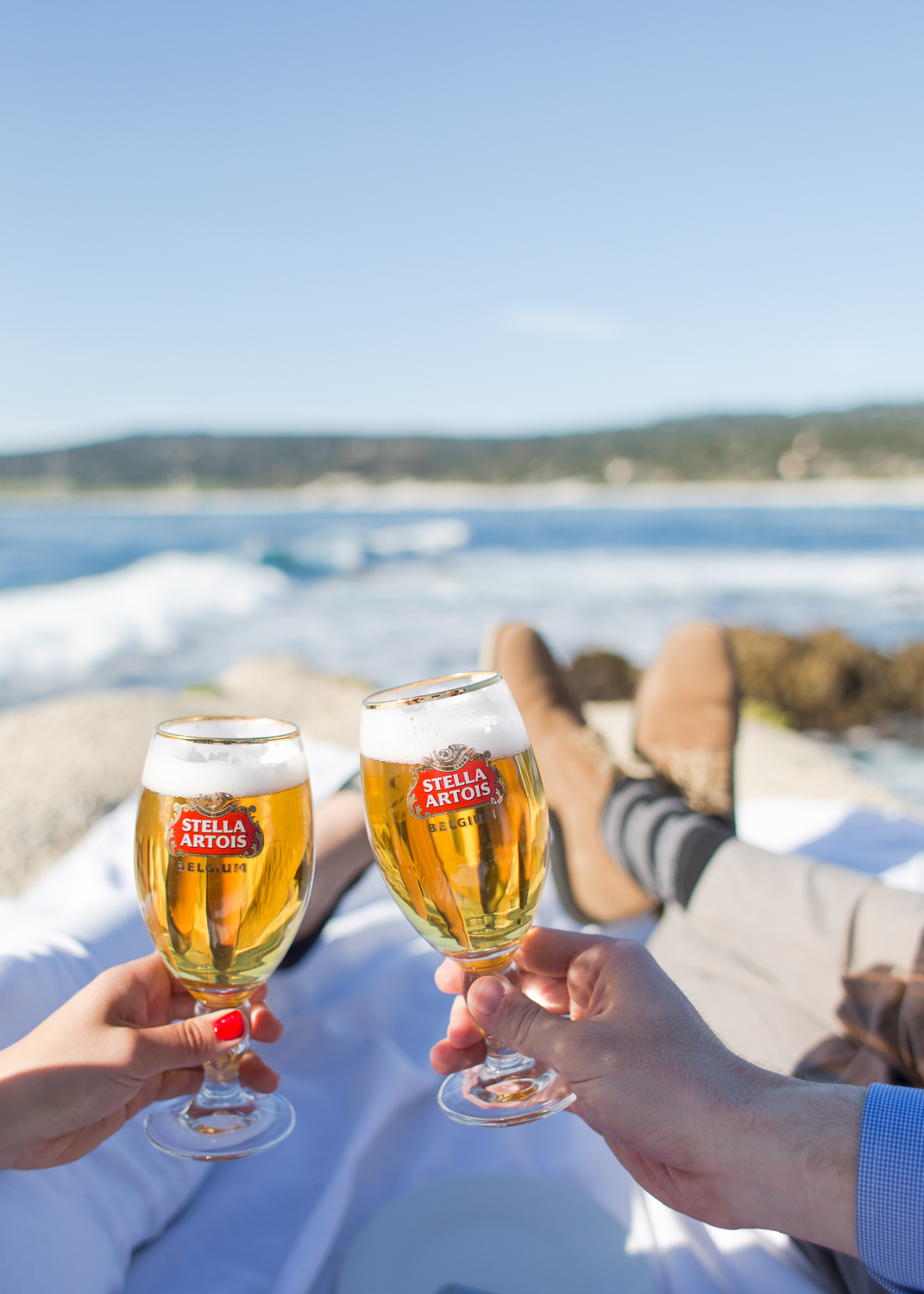 Use the right container
You can choose from goblets, pilsners, pint glasses, or mugs. A draft beer served in a glass will have a fresher taste than the bottled beers. You should use the pilsner glasses for frothy beers since they can contain the foam while letting the flavors bubble from underneath to the surface.
Other than this, whatever container you choose, you're good to go with any type of beer. After you open your beer, let it breathe, and tilt your glass slightly to prevent foaming right from the bat. Slowly pour it and turn the glass right when you reach the top if you want to have some foam.
Serve lighter beers like pilsners and lagers at around 1–7 °C, while porters, stouts, porters and dark, beers are best enjoyed at room temperature. Beers spoil quickly, so it's important to finish your beer once you open it.
Pair your beer with food
Maybe you won't like this refreshing beverage by itself, but you can always pair it with delicious food. When you pair it with the right flavors, its body transforms and takes on a new complexity. You may find that lagers are surprisingly refreshing when paired with sushi, wings, and pasta. 
Dark, bitter stouts make the ideal companion for prosciutto croquettes or a juicy burger. You can even enjoy the stouts with dark chocolate! Porters go perfectly with smoked meats. All beers can be easily paired with fried foods, but if you like fruity beers, we advise you to pair them with cheese or grapes. 
Enjoy your beer in a comfortable setting 
To enjoy your beer best, you need your friends! Beer goes perfectly with a relaxed atmosphere, good friends, and maybe a match of football.
Sings that your partner is selfish in bed
Sex with your partner should provide pleasure, enjoyment, passion, and connection, but that's nearly impossible if your partner is selfish in bed.
To experience all the beautiful things sex offers, you both shouldn't be selfish in bed – you need to be equally involved.
Although orgasm is not and does not always have to be the goal when we have sex, when it is present, it should be the culmination reached by both of you. Today, women talk about sex more openly than ever, and many of them admit that they are still deprived of the big O. Women who have selfish partners, see orgasm as something unattainable and something that does not come naturally to them.
Orgasm is achievable when both of you strive for it. But if you are one of those women who don't achieve orgasms very often, you may simply have a selfish partner who is not ready to satisfy your needs. Below you will find five things that point to this.
You do all the work
If your partner is constantly passive and constantly expects you do all the work, it is a sign that he is selfish during sex. Activity during foreplay, oral pleasure, and effort during sex should be equal. No partner should expect the other to do everything and enjoy the pleasure without giving anything in return.
He avoids foreplay
For many women, foreplay is a very important part of sexual intercourse, and many cannot have an orgasm without it. If your partner avoids that part and immediately goes to sex, it is a sign that he is selfish and he wants to satisfy only his needs.
He doesn't fulfill your wishes
You should not keep to yourself any desires, fantasies, and things you want in sex. But if you tell your partner about them and he refuses to even try to fulfill those fantasies, you should know that your partner is selfish in bed. Okay, we know that no one should ever do things that make them feel bad during sex, but if your partner refuses things like foreplay, changing poses, or getting involved in sex, you need to talk more about all of this to see if there are other issues or if he is selfish.
Your partner is focused only on his needs
Sex should always be an activity enjoyed by both of you. If your partner asks you to do something that only he wants or if he gets angry when you refuse to do something that makes you feel bad, it is a sign that he is selfish. Also, your partner should not be focused only on his orgasm during sex, but also on your desires.
Your partner believes that he has the right to have sex whenever he wants
Selfishness in sex is often manifested in the demand for sex and rejection. A person who thinks he has the right to have sex at any time and who can say "no" to you, but does not accept "no" from you, is not only selfish but also dangerous.
Mistakes men make in bed
Sex is amazing, of course. But sometimes, either when men try something new or when they are caught up in the moment, the sex can be no so good.
Men, it is really important to be good in bed, because if you do not have the moves and skills to satisfy women, they will be quick to let you go.
Here are the sex mistakes men make in bed way too often. These things they do during sex can end up killing the mood. Dudes, make sure you aren't doing any of them.
Related story:
They move too quickly to genital touch
When they finally understand how long it takes to arouse a lady, they want to start the process immediately. They like their genitals stimulated directly, so they assume women would want the same. However, they should allow the woman to prepare psychologically because the early stimulation is not exciting for women. Instead, you should spend some time massaging and kissing her whole body.
Stimulating her vagina instead of her clitoris
For the last time – what you feel on your penis is not what women feel in their vaginas. Feeling in the penis is based on touch, but in the vagina, the sensation is created by pressure and stretch. For women, the clitoris parallels penile sensation (except her anatomy is more sensitive and delicate). The clitoris is the center of women's sexual universe. However, it gets harder. Finding the clit is only half of the job. Some of you need to work on their techniques once they are down there. To start, don't treat the clitoris like you are scrubbing a pan clean.
They have high expectations due to watching porn
Not everything you see on porn can be done in your bedroom. Maybe your partner is not into everything you have seen online and is not physically capable of doing all that stuff, or maybe they just do not want to. Always listen to your woman's needs – that's crucial. Porn also skips foreplay-and-lube events, which are important. We know by now that sipping these steps can be painful.
They do not respond to women's needs
When a woman tells you to keep going, and she likes it, don't start to speed up or change your tempo. She liked it the way it was before. If she moans, that does not mean to change into rabbit fuck mode. By rubbing in between the vagina and clitoris up and down (rubbing against the urethra), you can give your partner cystitis, and it does not feel good.
These things are not just about pace, but about knowing whether or not you are cognizant of each other's verbal and non-verbal cues. Telling your needs and responding to your partner's needs is the key to amazing sex.
They don't make sure their partners had an orgasm
Just because you were satisfied, you cannot assume she was too. Unless you made an effort to make it pleasurable enough for her, it may not have happened. Some women need extra help from you to reach the big-O.
What is it like to have a threesome?
Well, before having a threesome, you need to make sure the bed is big enough for all of you to sleep in together afterward.
Okay, having a threesome now is not the best idea given the pandemic, but the idea of more people in the bedroom stays the most popular sexual bucket list activities.
Our advice is to have a threesome in healthier times, but if you don't want to put your whole life on wait, just do that with someone you trust. Okay, now back to the most popular fantasy. And no, a threesome isn't a male fantasy that pop culture tries to portray. There are many reasons why women would want a threesome. So, no matter if you are a girl or a boy, you should be encouraged to explore it if it turns you on.
Whether you are in a committed relationship and you want to invite someone else in your bed, or you look to join a couple as their unicorn, or you just want to try something new amongst friends, a threesome is easier to have than you would think.
Yes, there should be planning involved, and the most important thing is that everyone is on board with the rules.
What actually happens during the threesome?
You don't have to be nervous – it's still sex, and you know that you enjoy having sex. But, you will probably start with some booze, so everyone can relax a bit. During the foreplay, of course, there will be a lot of kissing and going down on each other. You can go down on someone, while you ride the face of the other person. And then, you can try every sex position that you want.
It is your choice whether you will get fucked by both of them or you will just fuck them. But, you should be open to new things. You would never know whether you like your butthole to be touched unless you try!
What if the threesome doesn't go the way you'd imagined?
Well, at least you tried, and don't forget that everything gets better with practice. Wink, wink. It can be overwhelming and not as cohesive as you expect. But it can also be fun and balanced, and even a lot more fun than you thought it would be. If this is a fantasy of yours, we encourage you to try it!
Things to know before trying threesome
Everyone is stressed about whether it will be okay. But the more relaxed you are, the better the sex will be.
Be open to try new things. So, any hot ideas you have been too shy to try before, throw them in now! You are doing something outside your comfort zone, so lean out.
If you are a couple, don't make your unicorn your therapist.
Have extra condoms, even if it is one guy and two women.
Do not spend time spiraling in advance over what goes where and who is doing what.