Famous men who had an affair with babysitters
We all know that it is hard to stay faithful in Hollywood. Celebrity marriages are known for not being so stable.
But throw a hot babysitter into the mix, and you will hear some not-so-pretty rumors. For the famous men on this list, a tempting babysitter in the home was hard to resist.
Some of these babysitter-scandals ended in heartbreak, but a few celebrities and babysitters went on to get married to each other. Some of the affairs have not been confirmed, but still, the marriages ended in divorce after those particular scandals. These are the famous men who had an affair with their babysitters.
Ben Affleck
Jennifer is gorgeous, funny, successful, and evidently not enough for Ben Affleck. Although both Ben and his ex-wife, Jennifer Garner, claim it is not true, their marriage ended due to his alleged affair with 28-year-old Christine Uzunian, the babysitter of their three children.
The actors tried to reconcile after the affair, but it did not work out. Ben is reportedly dating actress Ana de Armas now. For those who weren't aware, Ben and Anna recently filmed Deep Water.
Ethan Hawke
As Ethan and Uma Thurman were breaking up, babysitter Ryan Shawhuges came into focus as a reason for the split. Ethan denied the relationship with Ryan, but after the divorce, the famous actor married their babysitter.
The actor has 2 children from his marriage to Uma Thurman and 2 children from his marriage to the babysitter. He still claims that the relationship with the babysitter began after his marriage to Uma.
Jude Law
When the actor Jude Law was at the top of his career, he appeared in all British tabloids that revealed his affair with babysitter Daisy Wright. At the time he was in a marriage with Sienna Miller. They were the British 'IT couple' then.
The actor didn't deny the rumors but publicly apologized to his fiancée. "I want to publicly apologize to Sienna and our respective families for the pain that I have caused," Jude said at the time. They reconciled after a year but soon separated again.
Arnold Schwarzenegger
The famous actor, Arnold Schwarzenegger, got big headlines when it was publicized that he had an affair with his babysitter, Mildred Baena. Their relationship resulted in the birth of a son, and Arnold fathered his child.
The babysitter was pregnant at the same time as his wife Maria Shriver. Maria officially learned of the affair when their son was a teenager. She found out after Arnold's term as governor, and immediately ended her 25-year marriage to the politician/actor.  
Gavin Rossdale
The 13-year marriage of Gwen Stefani and Gavin Rossdale abruptly ended amid allegations that he had an affair with their babysitter, Mindy Mann. His affair with the babysitter allegedly had been going on for 3 years.
Two years after the divorce, Gwen Stefani confirmed their divorce happened after Gavin had his affair. The singer said she channeled her sadness and anger into songwriting when the couple divorced. At least, we got to hear some amazing songs from her.
Jennifer Lopez poses nude for the cover art of her new song
The 51-year-old singer posted on social media on Wednesday a jaw-dropping nude photo of herself. The photo serves as the cover art for her new single "In the Morning."
Beyoncé in British Vogue: She looks more stunning than ever
Businesswoman, artist, and perfectionist – the one-woman powerhouse shares some interesting things about her in an interview with the magazine.
Beyoncé has been revealed as the cover star for British Vogue's December issue. Vogue announced that with the rollout of three different covers. 
The first picture features Beyoncé on the ground wearing her new Ivy Park drop in a bright lime color, the other depicts the singer wearing a Mugler bodysuit, and the third features her squatting in a power-shoulders Alexander McQueen ensemble.
All pictures look flawless. In one of the photos! We must admit that she looks the most beautiful in the long red dress with an open back, which emphasizes her figure and has an interesting detail on her buttocks.
Kennedi Carter, a photographer whose work mainly focuses on Black subjects, shot the pictures.
Her appearance in the issue comes with a rare and special interview conducted by Vogue editor-in-chief Edward Enninful. They spoke over Zoom, and the producer, musician, and fashion designer admitted that the events of 2020 have changed her.
Beyoncé plans to slow down and have fun
She had learned that she needs to stay calm and still. Now, she truly cherished the time spent with her family. She said for Vogue that her new goal is to slow down and shed stressful things from her life.
Also, her most important goal is to have fun. We know that fun feels like a radical act right now, considering everything that is happening in the world.  However, at 39, she is a woman happy in herself, in her prime, happy in her healthy body, so she wants to claim the power of that. 
The singer reminds us of the impact of joy
In the middle of this madness, Beyoncé́ wants us to remember the impact and rebelliousness of a simple concept: joy. We mustn't forget to find joy wherever and whenever we can!
However, in the interview, she speaks also about the pandemic, the Black Lives Matter movement, and how these events affected her as a parent. Beyoncé has three children with husband Jay-Z – Bu Ivy, and twins Rumi and Sir. She says that her job as a parent is to do her best for her family to live in a more positive and safer environment.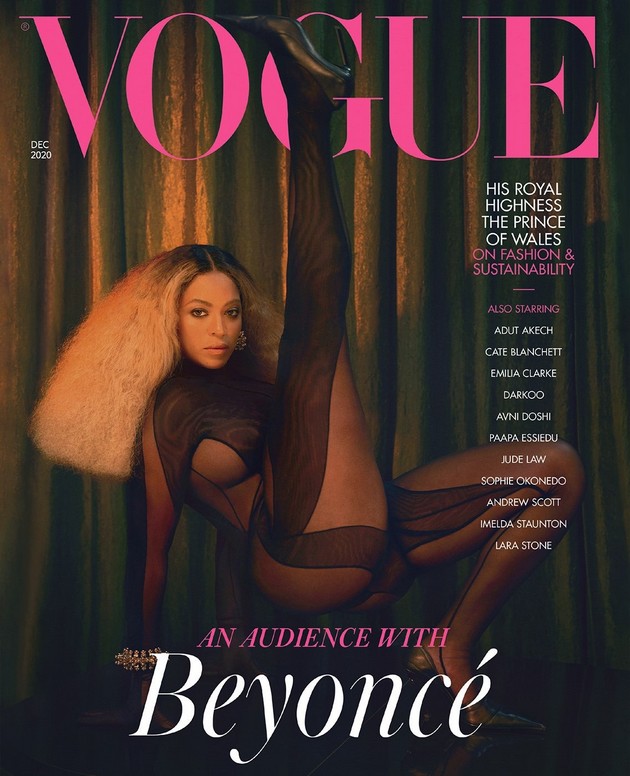 She admitted that she has been working non-stop – she has put out projects constantly.  Beyoncé released Lemonade during the Formation world tour, became a mother to the twins, played at Coachella, directed the concert film Homecoming, had another world tour with her husband, and then directed the film Black Is King. We can see that she has been focusing a lot on building her legacy and representing her culture the best way she can. Now, we can understand her decisions to give herself time and permission to focus on her joy.
We urge you all to find joy in these difficult times, and don't be hard on yourself!
The funniest animals ever
Enjoy the new funniest and cutest videos and try not laugh! Some cats in this video will actually surprise you! And there are dogs that resemble none of their kin in the whole world.