How to make the perfect Sangria
Sangria is a mixture of wine, fruit juice, fresh fruit, and a sweetener. Not only does it look amazing, but it is also a fair game for day drinking. We already got your attention, right?
We want to talk about good sangria wines. The recipe for perfect sangria is easy, yet, it should be made with good care and fruity wine.
Sangria is a perfect wine to have for your parties since you can put into a huge cocktail bowl so everyone can enjoy it. The sangria is simple to make and it can attract even those friends that are not into wine.
Different types of sangria
What we love most about sangria is its versatility. You can use any fruit, flavor, and any type of wine for the sangria recipe. So, if you were wondering what sangria taste likes, the answer depends solely on what you will put in the mix.
You can even find sangria that works with diverse spirits as gin, vodka, whiskey, or tequila. Just do not forget the key is to choose the best wine for sangria since the wine is the soul and heart to a delicious sangria.
The wine you have not finished the previous day sometimes can find its way into your sangria recipes. However, we recommend using fresh sangria wines to make first-rate sangria.
The best red wines for sangria
Sangria traditionally contains red wine. However, it is crucial what kind of red wine for sangria you will choose to use. Good sangria wines are the wines you would not mind drinking on their own. The best wine for sangria is a delicious red, medium-to-full bodied wine, with fruit flavor, and lower tannins.
For us, the best sangria wine is the Spanish wine Garnacha, full of red fruit flavors. It is grown in Spain and it has decent acidity and low tannins. This wine works perfectly with darker sangrias, made with pomegranate, crushed blackberries, and fresh mint.
Also, many people choose Tempranillo as the best wine for sangria. As Garnacha, this is also a wine made in Spain. Tempranillo will bring lush and rich texture to your sangria. This wine will provide notes of blackberries, cola, and cherries. The best sangria wine from the Tempranillo wines is the Octogenarian. This is an ideal wine for your sangria since it contains raspberry and cherry flavors.
Note: Make your sangria the night before, to allow the red wine to blend well with the additions.
The best white wine
White sangria is less common but evenly charming as the red one. Many white wines can be perfect for sangria because they do not make you argue with the tannins' bitterness. It is best to choose a white wine full of fruit flavor.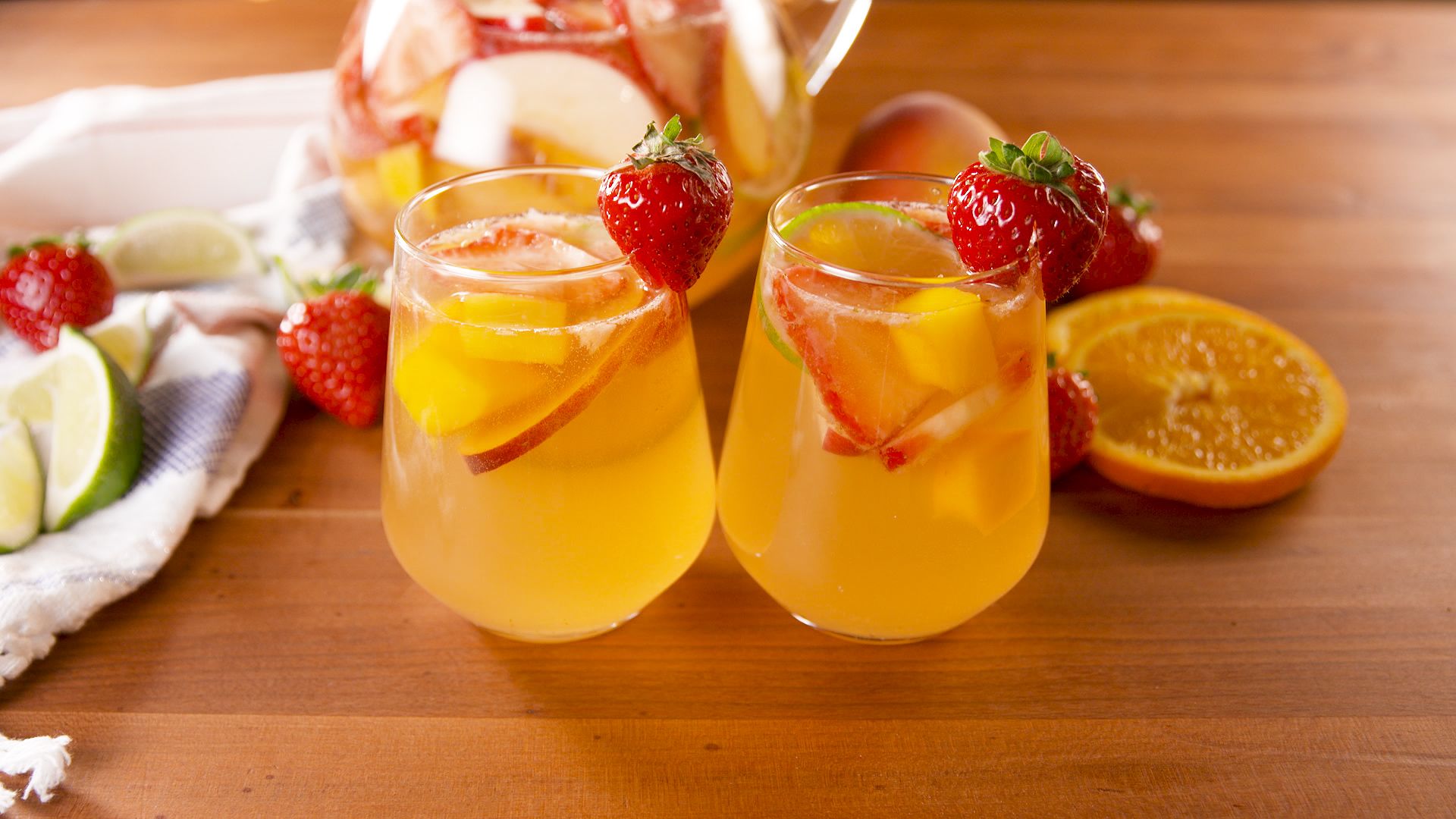 If you want light sangria, use garnishes like herbs, lemons, limes, or cucumbers and choose a light and crisp white wine. We recommend using berries, different herbs, and pomegranate with your sangria. The fruit combination is a key for delicious sangria since white wines show their fruitier side more. Therefore, you will need to pay extra attention to the used grapes in your sangria recipe.
If you ask us, the best wine for sangria from the white ones is definitely Sauvignon Blanc. Its fruity and peachy taste makes the ideal white wine for your sangria. It also pairs well with Italian food. This light, flavorful wine adds more zest and texture to your sangria and it is a great match with the fresh fruit.
Lessons we learned from "Sex and the City"
"Sex and the City" entertained us for a long time. Carrie, Miranda, Charlotte, and Samantha have been our helpful friends through the years.
To be exact, from 1998 to 2004, they have left us with a legacy that goes further the duration of one of the best TV shows ever: "Sex and the City"!
The four women taught us lessons about life, love, friendship, and shopping that we can't forget. And let's admit – these lessons help us to get through our chaotic lives. So, we couldn't be more excited to hear that "Sex and the City" is back! We are devastated that we don't get to see Samantha in the revival, but we are still happy to see what our ladies have been doing through the years.
Related story:
If we had not had this iconic HBO original, the thought of gathering with friends over cocktails to discuss masturbation and orgasms may have been a wild fantasy for many years. Who would have known 20 years ago, how much it would teach us?
You can still be friends even if you don't share every belief
You don't have to agree on everything and share every belief to be best friends. You will be much more of a good friend if you point out to your friends what they are doing wrong and speak freely out of your mind. Your friends will appreciate the honesty and be aware that whatever you say is for their good.
Sex without love can be amazing
"Sex and the City" showed us how wrong it is to think about sex as a nasty or even forbidden topic. We learned that it is fine to open up about it. They (especially Samantha) taught us that it is okay to have a little bit of fun – it is not a sin! Samantha was the queen of fun and sex! She taught us to enjoy the moment and that it is okay not to want a serious relationship, even though you are a woman. Every woman deserves to make her rules.
"Sex and the City" taught us to be bold
Do you remember when Samantha waited a few hours in a restaurant for the waiter to finish this shift? She thought he was hot, so she wanted to go home with him. She even paid the other woman still waiting to leave the restaurant. Okay, this is extreme, but you know what? It worked! So, if you want something, focus your time and energy on that thing! Go for it!
Cheating (almost) always ends badly
Okay, we cannot forget the Aidan, Carrie, Big fiasco even if we want to. Even we all rooted for Big, and it felt good and right at the time, in the end, everyone involved wound up miserable.
However, we also learned that sometimes it is okay to forgive. We admired Miranda during her split with Steve. Her heart was broken, but she realized she truly loved him, and not being with him was going nonsense. She taught us that sometimes it is okay to listen to your heart.
"Sex and the City" taught us not to force things
You should always remember that everything will happen in its own time. You can't hurry love. You should ignore the pressure to find someone. Charlotte put so much pressure on herself to find her soulmate and live a perfect life, but she ended up marrying the wrong guy.
Always put yourself first
It is all good to look after your partner, but sometimes you must put yourself first. Samantha always made herself a priority, and she was right to do so. Who can forget the legendary "I love you too, but I love me more?"
How to drink, eat, and be merry without getting fat
The holiday season is still here, and it's time to drink, eat, and be merry! It's time for good times, celebrations, and merriment! It sounds perfect, and it is, but not so much for your waistline.
A few glasses of wine, followed by prosciutto and cheese board, delicious pies, some spinach dip here, little puffy pasties there – and before you know it, you've added a few pounds. These little things do bring festive cheer and joy. And you don't want to be like Ross from Friends and carry a holiday weight even in March.
What if we tell you that you can drink, eat, and be merry, but still maintain your weight during the holiday season? It is all about balance. You just need to follow these simple steps so you can stay fit this holiday season while still enjoy all the fun!
Drink and be merry
Yes, you read it correctly. Prepare to do some serious drinking if you don't want to gain weight this holiday season. You need to drink a lot… about 2-3 liters of water daily. We know you're disappointed now, but with all the junk food and stress coming, hydration is crucial.
Do you know that when you get the urge to snack, you're actually thirsty and not hungry? Water is important for all bodily functions, but it also keeps you full. Also, you'll avoid all the eggnogs you planned on drinking.
Avoid snacking
Skip all the cheese, crackers, chocolate, and chips at the appetizer table. To avoid all that unhealthy stuff, have a hearty lunch or a light dinner before you go to a holiday party. You know it's a bad idea to go grocery shopping when you're hungry, don't you? Well, the same goes for holiday parties. You need to eat before you go. If not, you'll end up eating too many cookies, pastries, and pies.
And if you do feel like snacking something, focus on nuts, fruit, and vegetables instead. This will prevent you from snacking refined flour and excess sugar, which contribute to weight gain.
Stay active and sleep well
You don't have to set up your records in the gym in December and January, but you can stay active by getting daily walks. Also, if you don't sleep enough, your metabolism will lower, and your calories will burn slowly. So, party all you want, but get your good night's sleep, too.
Moderation
Okay, now you're thinking "But, it is the holiday season, not the time for a summer body. What if I want a piece of cake or a glass of wine?" Hey, have whatever you want! We won't stop you. But if you decide to have a piece of cake, eat one, and avoid the other unhealthy foods.
Also, we advise you to fill your plate with smaller portions of high-calorie foods like casserole and stuffing and fill in the gaps with nutrient-rich and high-protein foods. In this way, you can enjoy your holiday meals without overeating. It's all about balance and eating in moderation.
Dress to kill
You have been sticking to your training program. You look better than ever! So, show it off! Pick an outfit that will make you feel sexy. You can even treat you with a new outfit that boosts your newfound confidence.
We're trying to say – dress to kill your appetite! If your dress fits perfectly and you like how you look, you're less likely to eat junk food and destroy your look. So, show up hot and fabulous, stay hot and fabulous, and enjoy the seasonal parties!
Take care of your mental health during this weird holiday season
So, the holiday season is completely unrecognizable thanks to the pandemic. We know that is hard, so we offer you tips for how to cope.
The holiday and post-holiday season can be stressful at the best of times. But this time, several months into the pandemic, is definitely not the best of times. It has been hard to spend winter holidays away from loved ones and long-standing traditions. 
The holidays have looked different this year, but that, combined with the fact that we are still and will be in a pandemic for a while, makes this holiday season extra painful. There is hope now that a few COVID-19 vaccines have been approved. However, high-risk people and front line healthcare workers will be first to get protected, so that means our lives won't be going back to normal just yet.
And that is an even bigger bummer! We all thought that we "sacrifice" the holidays, but then we would get to live a normal life. But that won't be the case for at least several months. So, we know that all of us need help to protect our mental health while living through a pandemic during and after the holiday season.
Plan tiny distractions during the holiday season
Make a list of all of the tasks, hobbies, or projects you can do to stay occupied and follow up on each of them. Now is the time to learn how to cook and bake, organize your winter wardrobe, organize your library, watch black and white movies, or knit a beautiful scarf.
Reframe your thinking
Stop telling yourself that you are staying home due to some crisis that is out of your control. That is frustrating! Instead, try to think that you stay at home because you are motivated to protect the ones you love the most. Modifying your holiday plans or staying at home brings us closer to the end of this pandemic, so next year we get to have back all our traditions.
Go outside more than ever during and after this holiday season
You should find ways to spend time outdoors and experience the joys of the cold weather. This will make your days better. Bundle up and go for a walk, or you can even learn a new winter sport and have fun in the mountains. 
Update your family traditions
If you miss the holiday traditions you have with your family and friends, see what you can do virtually. Make your special recipes together over FaceTime or Zoom and eat them together. Or host an ugly sweater party. The goal is to find creative, new ways to feel together even when apart. 
Practice extreme coziness
Or like the Danish like to call it – hygge. This practice reminds us to appreciate the joys during this holiday season. Allow yourself to buy that soft onesie or blanket, curl up with a good book by the (virtual) fire, drink your favorite coffee, spend time with your pet, or treat yourself to a long bath.
Ditch the pressure
You should know that it is okay to feel burnt out or stressed. Don't put pressure on yourself to have a wonderful holiday season! We are all in this together, we all feel bad, so don't feel miserable if you see that the others have perfect holidays on Instagram. They don't.