Improve your cooking: Basic cooking methods
If toast and cereal with milk are your only specialists, it is time to learn some basic cooking methods. We cannot promise you that you will become a professional chef anytime soon, but we can guarantee you will not starve to death either. Many of us are constantly vowing to eat better and cook more, so we start looking for healthy recipes.
However, there are many cooking methods, so we thought it is more than fair to create a straightforward guide with the basic cooking methods. 
Mastering these methods will prepare you for almost every recipe you come along with. Apply these methods in your cooking and you will have satisfied guests at your dinner parties! 
Boiling
This is probably the simplest cooking method! In general, we boil foods in the water when it reaches a boil at 100 degrees Celsius. When cooking, we bring the food to a boil to make sure all ingredients in the pot are at the same temperature and will cook simultaneously at the same speed. You can boil everything from pasta to rice, and sauces to soups. We think it is high time for you to become a master for pasta with different sauces.
Simmering
This method is similar to boiling. It cooks the food through heating liquids in a pot on the stovetop instead of in a hot pan or an oven. The simmering is done over low heat and the process starts with bringing the liquid, whether milk, water, soup, or stew, to a boil. Then, you should reduce the heat until the occasional bubble pops on the surface every few seconds.
The simmering cooks the food slowly and gently, maintaining its structure in ways impossible with boiling. It is the ideal way to cook root vegetables like potatoes and carrots since it cooks them consistently and evenly without making them mushy.
Roasting
Do you need to get lunch going while you have some other things to finish up before eating? If that is the case, this method is ideal for you. Roasting involves cooking vegetables and proteins uncovered in the oven on high heat. We recommend roasting vegetables spaced enough, so they get extra crispy. You should use a shallow baking pan so the heat can circulate evenly.
Since roasting involves higher heat, it requires short cooking times. However, preparing the turkey for Thanksgiving requires slow roasting. That involves longer cooking time on a lower heat. Roasting requires the addition of oil.
Baking
Just like roasting, the baking process is cooking food in the dry, indirect heat of the oven, only at a lower temperature. Baking is usually associated with cooking muffins, casseroles, desserts, bread, and pastries. However, meats, vegetables, or lasagna can be baked as well. The temperature in the oven differs from recipe to recipe. However, it does not get higher than 400°F or above.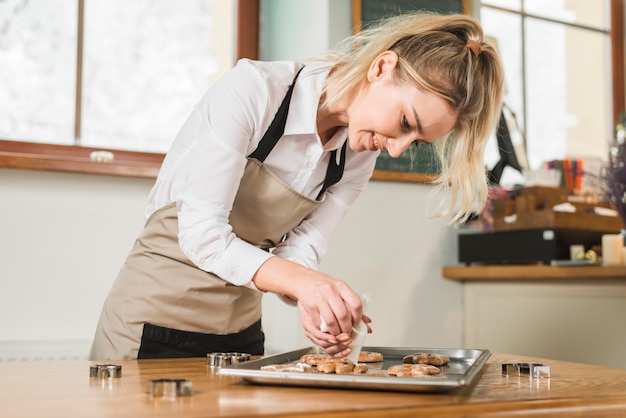 Sautéing
This method involves rapidly cooking the ingredients in a frying pan over direct heat. We use a small amount of butter or oil when sautéing. You should use sautéing to cook veggies, and to get that golden exterior for many proteins.
The heat comes directly from the pan so once the pan and the oil are hot enough, you should add the food so it can brown quickly. The exterior of the food will be caramelized, and the interior cooked until tender. You can use this method with different foods, like fish, meat, vegetables, and even noodles. 
Grilling
This method is cooking food on direct, high heat. Grilling usually involves live fire, but you can cook with a grill pan on the stovetop. Tender cuts of poultry, meat, shellfish, and fish are ideal for grilling. You can grill vegetables and fruits as well. When you grill the food, the flames brown and caramelize the exterior quickly while the inside cooks through.
Advanced cooking methods: Challenging yourself
If you already have good kitchen organization, the ability to adapt recipes, and know many cooking methods, then it is time to move on to some more advanced methods. We know that most of those cooking skills are basic or intermediate, such as frying, braising, roasting, and sautéing, but these are the base you need to move on to the next cooking level.
Confident and adventurous home cooks will get out of their comfort zone and master new cooking methods that will improve their kitchen skills.
Even though some of the more advanced cooking methods and skills may sound inaccessible or fancy, you will be surprised to find out that they are not as complicated as they seem. We have gathered some tips and advanced cooking methods to teach you the skills and confidence in creating fabulous refined dishes at home.
Attention to detail while cooking
It is best to understand cooking as a science. You need to be precise – every measurement and ingredient must be exact. You need to have an eye for details. When it comes to ingredients, we advise you to choose the best ones if you truly want to impress people around you. Homemade breadcrumbs are way better than packaged crumbs, and some fine chocolate makes an enormous difference in your desserts.
Switch to sea or kosher salt
Sea salt and kosher salt will give a better flavor to your dishes than ordinary salt. Even though food should not taste salty, doing the opposite and using little or no salt at all results in flat- testing the food. Even if some recipe suggests a specific amount of salt, your palate, and ingredients can differ from the writer's recipe and require adjustments.
Be clean and creative when cooking
You need to keep your kitchen sanitary. Clean as you go and thank us later! And if you want people talking for your dinner parties for days, you must improve your older recipes and incorporate new food items.
Advanced cooking methods
Deglazing
This cooking method is an elegant way of completing your culinary repertoire. Simply put, whenever you cook food in a pan, you can make some caramelized juice and dilute it with spirit, stock, or wine to function as a solvent, which will give you a fine foundation for gravy.
Blanch
Blanching is a simple two-step method, but it will give your dishes an extravagant look. You just need to boil the vegetable or fruit briefly and then dip them into ice water to stop the cooking process. With this method, you will soften the food without removing its vibrant, bright color. You will achieve your food to be tender-crisp and you can use it in stir-fries, sushi rolls, salads, and crudité platters, or even frozen for later use.
Suprême
This is a French term, which means to cut the parts out of the citrus fruit. Trim both ends of it and use your knife to trim away the pith and peel. Once you peel the fruit, cut it into one part on both sides, close to the membrane. Then, the particular fruit part will be removed easily. 
Flambé
If you want to challenge yourself in the kitchen, do some flambéing. Start by preparing your food to flambé in a pan. Once the ingredients are almost done with the cooking, take away the pan from the heat. Then, carefully pour in a little alcohol, and put the pan to the heat again. Tip the pan away from you so the alcohol catches fire. Gently swirl the pan to distribute the flames evenly. 
Pellicle
Everyone likes smoking meat as it will give the cuts of pig or beef a subtle, nice flavoring. Many people focus more on the rubs, but it is time to start paying attention to the pellicle as well. The pellicle is the outer layer formed when you leave the meat air dry for a couple of days. The shell protects the meat from the spoiling agents, but it also keeps the smoky flavor once it is cooked. For a perfect pellicle, we suggest hanging the meat on hooks to make sure the food is evenly exposed to air to dry.
Everything you need to know about Botox and fillers
Botox and fillers are cosmetic treatments given through injections. They are slightly invasive, and they do not include surgery.
Botox and fillers minimize wrinkles, fill undesirable folds, or augment structures, like your cheekbones or lips with lost volume.
What is Botox?
Botox corrects dynamic wrinkles, like lines on the forehead and crow's feet around the eyes. It blocks the nerve signals in the muscles where it is injected. The Botox interrupts the nerve signals, so the affected muscles will temporarily freeze or paralyze. If the selected muscles in the face do not move, certain wrinkles will reduce, soften, or even remove.
The entire treatment takes 10 minutes, and you will feel only minimal discomfort. Most clients feel only a tiny stinging feeling.  There is no discomfort after the treatment, you can immediately return to normal activity. The results are visible, but the facial appearance will not drastically change. The treatment will temporarily diminish the muscle activity that causes frown lines between the brows, thus you can still look surprised or frown.
What can Botox improve?
Botox only works on dynamic wrinkles, caused by muscle movement. Botox can treat lines on the forehead and the upper face, and crow's feet around the eyes. These lines appear due to frowning, smiling, squinting, and other facial expressions.
You will notice the results within 1-2 days. The appearance of your frown lines between the brows will soften and the area can resume improving for up to a month. Botox injections prevent wrinkles to deepen over time, thus preventing the effects of aging.
How often is Botox injection required?
This muscle-relaxing effect can last up to four months. You will need regular treatments for the constant wrinkle-diminishing effect. The required treatments depend on age, muscle mass, and the desired outcome. However, you will accomplish optimal results if you receive Botox treatments at regular intervals, around three to four times a year.
With constant use, many clients find they can reduce the maintenance to two to three visits a year.
What are fillers?
Filler changes the facial profile to a more youthful one. The injection of filler fills in deep folds, and pad out hollow eyes and cheeks and create fuller lips. 
The fillers are substances created to be injected underneath the skin's surface to put in fullness and volume. Some fillers last six months, whereas others up to two years or longer.
What can fillers improve?
Experts create different types of fillers to treat variable signs of aging. Depending on the filler, they can: 
-Plump up lips
-Fill in or soften the appearance of scars
-Improve or fill in shallow areas 
-Soften static wrinkles
-Reduce or eliminate the wrinkle under the eyes 
Botox and fillers are increasingly popular for treating expression lines and wrinkles. You can look at them as "preventative" injections that will make you feel more beautiful and confident.
How to finally get rid of cellulite
Cellulite usually affects the thighs and buttocks, but it can also occur in other body areas. The concentrated fat cells bulge into the middle layers of the skin and create a dimpled and lumpy skin surface.
We know you are here to learn how to get rid of cellulite, but no matter how many cellulite scrubs or creams you put on your body, you cannot destroy it at home.
That is because cellulite forms when fat cells beneath the skin (which everyone has, regardless of how frequently they exercise or how healthy they eat) push up against the connective tissue, they cause the skin to pucker or dimple. To permanently remove the cellulite, you need to have in-office treatments with a plastic surgeon or dermatologist. The faster you start to treat it, the more success you will have.
Treatments for cellulite
Massage
To get rid of cellulite you need to hydrate and strengthen your body's connective tissue and cells, which can be accomplished with massage therapies. Regular massages will increase circulation and reduce excess fluid, thus they will improve the blood flow. The massages will temporarily reduce the dimpled appearance. Also, we advise you to give yourself firm massages while applying body cream.
Mechanical massage
Lipomassage is an FDA-approved treatment. It is a specific type of mechanical massage. The machine with small -pressure suction presses the skin among two spinning rollers. This treatment increases the blood flow by breaking up the connective tissue, which caused dimples. You may need a few sessions to get the desired results.
Body wraps
The body wraps can smooth and tighten the skin and improve its texture and tone for a short period. The effects last about a day so you will need several treatments.
Acoustic wave therapy
It uses a handheld device to transmit sound waves. It stimulates the metabolic processes and improves connective tissue elasticity. This therapy reduces fat and contours the body but requires several sessions.
Laser treatment
This treatment involves inserting a very laser probe under the skin. Then, the laser is fired, breaking up the fatty tissue. The laser's light can thicken the skin by boosting collagen growth. The thickened skin reduces the appearance of the cellulite below.
Carboxytherapy
This is a cosmetic, non-surgical treatment. It involves injecting gaseous carbon dioxide underneath the skin through a needle into the subcutaneous tissue. It kills fat cells, stimulates blood flow, improves the elasticity of the skin, and thus reduces the appearance of cellulite. You might experience mild discomfort after the procedure and bruises.
But, what can we do at home?
Yes, there are some things you can do at home to help reduce the orange-peel appearance. Do you know those wooden body brushes you have always considered buying? Well, daily dry massaging and brushing can stimulate lymphatic drainage that helps to eliminate toxins that accumulate in your fat layer. In addition to dry brushing, you should include a retinol body cream into your routine. The collagen-building ingredient will smooth and plump your skin.
Also, you can use a caffeine-filled body scrub and pay attention to your cellulite area. The caffeine temporarily plumps and tightens your skin.
And you know by now that you should drink plenty of water and eat a healthy diet to fasten the process of getting rid of your cellulite!