Improve your cooking: Basic cooking methods
If toast and cereal with milk are your only specialists, it is time to learn some basic cooking methods. We cannot promise you that you will become a professional chef anytime soon, but we can guarantee you will not starve to death either. Many of us are constantly vowing to eat better and cook more, so we start looking for healthy recipes.
However, there are many cooking methods, so we thought it is more than fair to create a straightforward guide with the basic cooking methods. 
Mastering these methods will prepare you for almost every recipe you come along with. Apply these methods in your cooking and you will have satisfied guests at your dinner parties! 
Boiling
This is probably the simplest cooking method! In general, we boil foods in the water when it reaches a boil at 100 degrees Celsius. When cooking, we bring the food to a boil to make sure all ingredients in the pot are at the same temperature and will cook simultaneously at the same speed. You can boil everything from pasta to rice, and sauces to soups. We think it is high time for you to become a master for pasta with different sauces.
Simmering
This method is similar to boiling. It cooks the food through heating liquids in a pot on the stovetop instead of in a hot pan or an oven. The simmering is done over low heat and the process starts with bringing the liquid, whether milk, water, soup, or stew, to a boil. Then, you should reduce the heat until the occasional bubble pops on the surface every few seconds.
The simmering cooks the food slowly and gently, maintaining its structure in ways impossible with boiling. It is the ideal way to cook root vegetables like potatoes and carrots since it cooks them consistently and evenly without making them mushy.
Roasting
Do you need to get lunch going while you have some other things to finish up before eating? If that is the case, this method is ideal for you. Roasting involves cooking vegetables and proteins uncovered in the oven on high heat. We recommend roasting vegetables spaced enough, so they get extra crispy. You should use a shallow baking pan so the heat can circulate evenly.
Since roasting involves higher heat, it requires short cooking times. However, preparing the turkey for Thanksgiving requires slow roasting. That involves longer cooking time on a lower heat. Roasting requires the addition of oil.
Baking
Just like roasting, the baking process is cooking food in the dry, indirect heat of the oven, only at a lower temperature. Baking is usually associated with cooking muffins, casseroles, desserts, bread, and pastries. However, meats, vegetables, or lasagna can be baked as well. The temperature in the oven differs from recipe to recipe. However, it does not get higher than 400°F or above.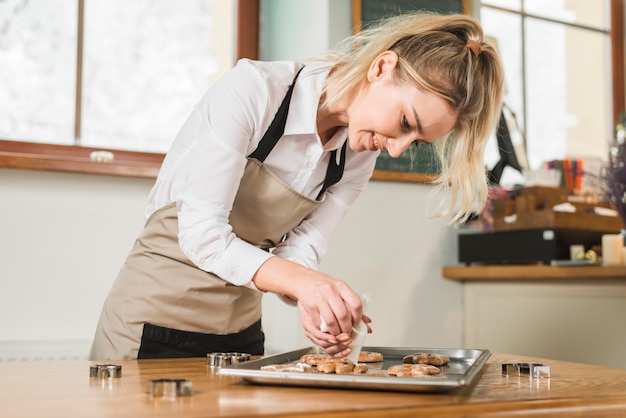 Sautéing
This method involves rapidly cooking the ingredients in a frying pan over direct heat. We use a small amount of butter or oil when sautéing. You should use sautéing to cook veggies, and to get that golden exterior for many proteins.
The heat comes directly from the pan so once the pan and the oil are hot enough, you should add the food so it can brown quickly. The exterior of the food will be caramelized, and the interior cooked until tender. You can use this method with different foods, like fish, meat, vegetables, and even noodles. 
Grilling
This method is cooking food on direct, high heat. Grilling usually involves live fire, but you can cook with a grill pan on the stovetop. Tender cuts of poultry, meat, shellfish, and fish are ideal for grilling. You can grill vegetables and fruits as well. When you grill the food, the flames brown and caramelize the exterior quickly while the inside cooks through.
Low-alcohol cocktails are the new trend
We all know that drinking alcohol is bad, but you do not have to give up drinking entirely. This is where low-alcohol cocktails come in.
You don't have to give up alcohol, but you also don't need to drink to get drunk. Low-alcohol cocktails are what they sound like: cocktails with less alcohol.
Why should you drink low-alcohol cocktails?
There are many occasions when low-alcohol cocktails are a perfect choice. They are ideal for happy hour or day drinking because you will relax but still be functional. Who doesn't love day drinking? But it isn't realistic to do that all the time. But can you have an Aperol spritz at brunch? Yes, you can.
Low-alcohol cocktails are an ideal place for those that do not want to give up the booze but just want to take it easier. It is a good option for people who want to be healthier and more mindful when it comes to their booze intake. Also, these cocktails contain a few components, so they are easy to pair with food.
How to make low-alcohol cocktails?
The basic premise for these cocktails is the same whether you make your cocktails with a lot or a little alcohol. Low-alcohol cocktails are complex, layered, and interesting, and they aren't difficult to make.
Champagne and wine are an amazing place to begin playing around with these cocktails since they have a lower level of alcohol than most spirits. If you are a fan of Champagne, you are going to like a Champagne cocktail that is going to be with less alcohol. Add an aperitif, a vinegary shrub, or bitters, and you will get a wonderful cocktail that will even pair with your meals.
Low-alcohol cocktails
Elderflower spritz
This liqueur adds a range of flavors – from peach to tropical fruit, citrus, and pear, topped off with honeysuckle. You will need 50 mL elderflower liqueur, 60 mL Champagne, and 60 mL club soda. Fill half a glass with ice cubes and add the liqueur, then the Champagne and club soda. You can add a lemon slice as well. If you want you can make an alcohol-free version of this cocktail by using elderflower cordial instead of the liqueur. Of course, you should skip the Champagne and add 120 mL club soda.
Sherry Cobbler
This cocktail is a work of art. Sherry, a wine that is common in Spain, is fortified, with a little brandy added. It is higher in alcohol than regular wine but is served with a splash of club soda. Also, it is mixed with lemon and orange slices, simple syrup, and mint for a bright flavor.
Reverse Manhattan
If you like classic cocktails, but they are too strong for you, try the Reverse Manhattan. It switches the proportions of vermouth and bourbon, resulting in a lower level of alcohol and sweeter drink. You just need 30 mL whiskey, 60 mL vermouth, 1 cherry, and ice cubes. Fill half a shaker with ice cubes, combine the ingredients, and stir until chilled. Don't forget to garnish with a cherry.
5 smart ways to break any bad habit
Are you wondering how to break bad habits? Well, we offer proven and smart ways to break any bad habit that annoys you.
We are here to remind you that everything is possible! You should combine your dedication and these five smart ways below to start your bad habit-breaking journey!
First, you need to identify your triggers because the triggers are the first step in developing a bad habit. Identifying them is also the first step in moving past them. And it should be clear to you why you want to break a certain habit. It can be easier to change your habits when the change is beneficial or valuable to you. If you think about it, you will see the benefits of the change.
Related story:
Okay, now it is our turn to reveal to you the smart ways to break any bad habit.
Get to the root of your bad habit
A bad habit is often a comfort blanket during emotional turmoil. Bad sleeping habits, poor eating, and drinking can be signs of stress or unhappiness in aspects of your professional or personal life. In identifying the stressors of the habit, you can understand it, so you will be able to target the root of the bad behavior. In this way, you will be better equipped to beat this behavior.
Accountability
Accountability is crucial when it comes to changing habits. If you monitor your behaviors through tracking and journaling, you will have a record of your performance. It is good to have a visual representation of your behavior, which will hold you accountable. When you track your diet, water consumption, and goals you can see patterns in where you fell short and where you excelled. When you can see your poor performance and behavioral patterns, this accountability will be a motivation for you to do better tomorrow.
Smart ways to break any habit: Replace it with another
It is easier to break a bad habit if you replace the unwanted behavior with new, better behavior. Don't just stop the unwanted behavior – it doesn't work that way. Of course, the new habit needs to benefit you spiritually, physically, and mentally. For example, if you like eating fast food, try to replace this habit with learning to cook healthy meals that will satisfy your cravings. Or let's say you're stuck in a rut of social media scrolling. In that case, you should practice meditation or pick up a book to improve your mindset. The impulse to follow the new behavior will develop as you repeat it. 
Visualize breaking the bad habit
Breaking a bad habit doesn't have to be only a physical process. You should practice new behaviors mentally, too. Imagine how you would typically react in the morning before your work presentation. You might see yourself eating sweets or anxiously biting your nails. Now, imagine how you could react instead. Visualize yourself going over your presentation, practicing deep breathing, tidying your office, or going for a walk – anything that keeps you busy and calms you.
Motivate yourself with rewards for success
Don't forget that breaking a bad habit can be incredibly difficult. Acknowledge how far you have come, and give yourself rewards along the way. Celebrate your wins! Even small rewards, like telling yourself what an amazing job you are doing, will increase your drive to keep going. Focus on the progress you make, and you won't engage in negative self-talk or become discouraged. 
The biggest fashion trends of 2021
Although it has been a quiet year for the fashion world, this season has unveiled bold and stylish fashion trends.
It is time to check out the fashion trends of 2021 that are already in your closet, along with the others that are worth investing in. 
As you remember the viral TikTok created by Lorena Pages, we really had so many cute outfits planned for 2020 that we couldn't wear. Who would buy pilgrim collars or strange denim shapes in the middle of a pandemic? We all have spent the last year tucked in sweatshirts and leggings. We strongly hope and pray that 2021 will be different and that we will get a chance to wear so many of these fashion trends. 
We must admit that one of our New Year's resolutions was to get dressed up often and keep up with the latest fashion trends. And, we bring good news: this year's fashion trends won't cost you a dime. Since many pieces never truly had their moment to shine in 2020, they will be still going strong this year.
Here you can find some style inspiration with the top fashion trends spotted at the latest Fashion Weeks.
Belts
As you can notice, more fashion icons and influencers are bringing back the belt. Yes, we are talking about a midsection belt that makes every dress or shirt look more fashionable. You can use your old belts this year to cinch a blazer, dress, or even a sweater.
Oversized boyfriend jackets
You can easily create a long line silhouette with an 80s-inspired oversized boyfriend blazer. Also, there are endless shapes you can play with. The shoulder pads elongate your legs and cinch in your waist. You should rock this look with leather shorts or a pair of straight-leg trousers for an ultra-modern style. This trend suits colors like charcoal, neutrals, and powder blue. You can dress this up or down for a chic aesthetic.
Sorbet pastel tones
Pastel tones will continue to dominate this year. These sorbet-inspired pastel tones are perfect for spring and summer. Also, they suit every skin tone. Choose from an oversized trench coat in cool mint green or boiler suit in soft lavender. Or even better – you can style them both simultaneously. Separates and suits in the buttery and soft tones elevate your aesthetic and will continue to be one of the chicest styles for many seasons to come.
Related story:
White boots
Of course, we are talking about knee-high boots! Swing it back to the 1960s with this amazing item of footwear. These boots are from the Youth Revolution in the mid-century. And this Nancy Sinatra-approved look is a fashionable way to freshen your outfit. You can wear them with a roll neck, patterned mini skirt or dress, or a pair of leggings. You can choose tight ones for a sexy look or a slouchy style for an effortless look and feel.
Matching sets
Yes, we wear sweatsuits and matching sets around the house, but they work perfectly for social settings, as well. You can style your sets with a pair of white boots, layered necklaces, a blazer, or a turtleneck. But, if you do not own a matching set, you can create a similar monochromatic vibe with pieces in the same color.