Look like Jennifer Lopez: Her diet and exercise routine
If you thought that Jennifer's body is the work of genetics, or a casual Pilates class, well you are deeply mistaken. A lot of work goes into the body this goddess has today, including a clean diet and a strict exercise regimen.
If you cannot believe your eyes every time you see Jennifer Lopez with her flawless body, then you are not alone.
Here, we run through Lopez's diet and exercise routine. And while we are all in total envy of her sculpted physique, we are all the more impressed by it with the knowledge that she turned 51 in July!
Her diet
A lot of water, and then some more water
Jennifer's number one rule is to keep well hydrated. She drinks a lot of water, especially before exercising, which helps her push harder and get more out of the exercises.
She keeps her body hydrated and well-rested after working out, so she can hit it hard the next day as well.
No alcohol or caffeine
It is crucial to know what you should not be putting in your body. In her case, she steers clear of caffeine. And when she does drink coffee, she drinks it decaffeinated.
And she hasn't drunk alcohol for years. Way to go, JLo!
Clean eating
Lopez sticks to a nutrient-rich, balanced diet, and has cut out all refined and processed foods. All she eats is organic, with the balance of nutrient-dense food and high-quality proteins.
Her lunch menu consists of salmon and broccoli, or capsicum salad and zucchini. For dinner, Jennifer usually eats quinoa paired with a protein. This may sound restrictive to you, but she has never starved herself. Instead, JLo eats foods that properly fuel her for the day. Even when she is dining out, she makes healthy choices as well.
According to her nutritionist Haylie Pomroy, her diet is healthy since it consists of non-starchy veggies and lean proteins, along with healthy fats and carbs like sweet potatoes and brown rice. Her snacks are also veggies or fruit, not a packet of chips!
Her exercise routine
Leg workout
While Jennifer Lopez upped her strength workouts for learning how to pole dance for the movie Hustlers, it seems that she is just as committed to her training always. Here is a sneak peek of her intense leg workout. She is doing heavy-weight, low-rep leg press alongside her trainer. 
Mixing up the workouts
The key to her dedication to exercise lies in her tendency to mix up the workouts.
She works with two trainers who have totally different approaches because she loves the balance they give her. When exercising in LA with Tracy Anderson, she has a relaxed approach to her routine, incorporating arm weights with exercises that corporate the thighs, core, and butt.
Her exercising routine in New York with David Kirsch is higher in intensity. Their workouts consist of circuit training, kickboxing, burpees, lunges, and abs exercises.
Butt workout
To sculpt her butt, Jennifer Lopez incorporates a platypus walk into her workout. This move is the most effective workout for the butt, as you can see.
This low squat technique, which you can see here, works on the thighs and tones, and lifts the butt.
Full-body workout
She incorporates resistance bands, gliders, medicine balls, and dumbbells for her full-body workout. This express workout is sculpting and low-impact. Lopez's focus on arm workouts, while focusing on her butt, is one of the secrets to her toned derrière, back, and arms.
Now, here are a few pictures for inspiration to try to look like her:


Jennifer Lopez poses nude for the cover art of her new song
The 51-year-old singer posted on social media on Wednesday a jaw-dropping nude photo of herself. The photo serves as the cover art for her new single "In the Morning."
Beyoncé in British Vogue: She looks more stunning than ever
Businesswoman, artist, and perfectionist – the one-woman powerhouse shares some interesting things about her in an interview with the magazine.
Beyoncé has been revealed as the cover star for British Vogue's December issue. Vogue announced that with the rollout of three different covers. 
The first picture features Beyoncé on the ground wearing her new Ivy Park drop in a bright lime color, the other depicts the singer wearing a Mugler bodysuit, and the third features her squatting in a power-shoulders Alexander McQueen ensemble.
All pictures look flawless. In one of the photos! We must admit that she looks the most beautiful in the long red dress with an open back, which emphasizes her figure and has an interesting detail on her buttocks.
Kennedi Carter, a photographer whose work mainly focuses on Black subjects, shot the pictures.
Her appearance in the issue comes with a rare and special interview conducted by Vogue editor-in-chief Edward Enninful. They spoke over Zoom, and the producer, musician, and fashion designer admitted that the events of 2020 have changed her.
Beyoncé plans to slow down and have fun
She had learned that she needs to stay calm and still. Now, she truly cherished the time spent with her family. She said for Vogue that her new goal is to slow down and shed stressful things from her life.
Also, her most important goal is to have fun. We know that fun feels like a radical act right now, considering everything that is happening in the world.  However, at 39, she is a woman happy in herself, in her prime, happy in her healthy body, so she wants to claim the power of that. 
The singer reminds us of the impact of joy
In the middle of this madness, Beyoncé́ wants us to remember the impact and rebelliousness of a simple concept: joy. We mustn't forget to find joy wherever and whenever we can!
However, in the interview, she speaks also about the pandemic, the Black Lives Matter movement, and how these events affected her as a parent. Beyoncé has three children with husband Jay-Z – Bu Ivy, and twins Rumi and Sir. She says that her job as a parent is to do her best for her family to live in a more positive and safer environment.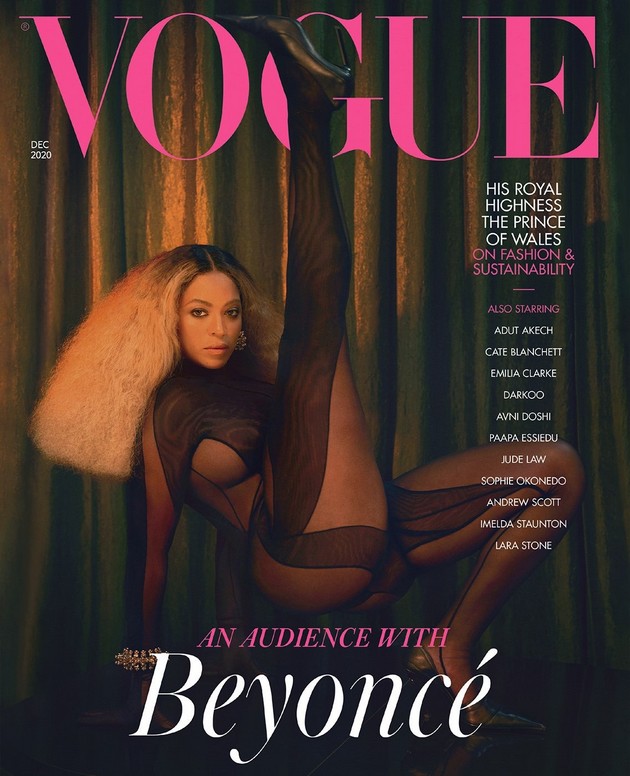 She admitted that she has been working non-stop – she has put out projects constantly.  Beyoncé released Lemonade during the Formation world tour, became a mother to the twins, played at Coachella, directed the concert film Homecoming, had another world tour with her husband, and then directed the film Black Is King. We can see that she has been focusing a lot on building her legacy and representing her culture the best way she can. Now, we can understand her decisions to give herself time and permission to focus on her joy.
We urge you all to find joy in these difficult times, and don't be hard on yourself!
The funniest animals ever
Enjoy the new funniest and cutest videos and try not laugh! Some cats in this video will actually surprise you! And there are dogs that resemble none of their kin in the whole world.