Lesbian sex: Everything you need to know before you try it
Did you decide to have sex with another woman for the first time? Well, welcome to the amazing world of being a bisexual, a lesbian, or an otherwise questioning woman. If you don't like labels, that's okay too!
Your first time having lesbian sex can be pretty daunting and nerve-racking. So, if you need some tips on how to have lesbian sex, we're here to help. 
Making out is wonderful (sweet mouths, conditioned lips, softness), and everyone loves playing with some awesome boobs, right? However, when it comes to the downstairs area, many girls get nervous when confronted with another vagina. First, we must clarify something. The lesbian porn you have watched is not realistic at all. So, if you were confident because you have watched a lot of porn, scratch that. All vaginas are different and they need different stimulation.  
So, if you need some help on how to have lesbian sex, here is everything you need to know.
You are not expected to be an expert at lesbian sex
You must tell the woman you want to have sex with that it is your first time. If you are attracted to her and comfortable with this woman to want sex, you shouldn't ruin the moment and mood by keeping your virginity a secret from her.
And yes, it is okay to ask for guidance. Also, it is very hot for someone to tell you what to do with a sexy voice. It is crucial to communicate even during the act. And don't be afraid or ashamed to say you have changed your mind about something. Trust your instincts and your partner to have enjoyable lesbian sex.
Begin with mutual masturbation
If you want to learn how her body works and how your body responds to your partner, mutual masturbation is a sexy and amazing way to do that. Playing with your bodies is hot and the easiest way to learn what turns her on and how to do it like a lesbian goddess.
Also, it is important to have solo masturbation sessions. It is high time to learn how to masturbate like a pro. Believe us – your sex life will become more enjoyable once you get to know your body properly.
Giving oral sex
Maybe this is the scariest thing when you have lesbian sex for the first time. Unfortunately, the hardest aspect of girl-on-girl sex is to give advice that fits all. However, starting slowly is always a good idea.
Part their outer labia gently and lick up from the entrance to the clitoris. You should lick up and down the labia. Be focused on the clitoris and lick around it with a circular motion. Don't forget to vary the pressure. Insert a finger (or fingers) only if she is okay with that. 
Understand fingering
Most women achieve orgasm with clitoral stimulation. However, every woman's body is different, so some may enjoy fast friction to the clitoris, while others may enjoy gently and slowly rubbing the outer lips.
Do not be discouraged if you have to go through trial and error with your new partner.
Fast ways to turn yourself on
Consider these go-to hacks for when you need to orgasm, like, now. Sometimes you need to turn yourself on between Zoom calls or right before a work meeting.
Okay, so sometimes you just need to turn yourself on fast. We don't always have time to prime our bodies for a long, sensual masturbation session.
How many times does your body ask you for an immediate orgasm? The answer is many times.  And girl, you should know that your body should never be denied its desires. Yes, we all prefer face masks, oils, steamy novels, a vibrator, but it is what it is. So, when you do not have time to commit to the long masturbating experience, it does not mean you have to deprive your body of an orgasm. It just means you need our horny hacks. 
We will help you to learn how to turn yourself on fast! However, that doesn't mean that it will be less enjoyable or fun than a full-on masturbating session.
Get undressed in front of a mirror
Nothing is sexier than you! You just need to turn yourself on by seeing how hot you are. Also, you can lounge around in your hot lingerie when you are alone at home. Put on your sexiest, laciest piece, and enjoy your time.
Activate your senses to turn yourself on
Your senses are directly related to your libido, duh. You should eat some aphrodisiacs (like nuts or chocolate), play some music that makes you feel like a sex goddess, set the mood by adjusting the lighting right, put some sensual sheets like silk, and spritz the perfume that makes you horny.
Related story:
Create a sexual fantasy
We know that sex scenes on TV are great, and porn is even better. But you will turn yourself on quickly if you create your sexual fantasy because it is yours! And you decide what happens there. The mental images of your sexual fantasy will get you where you want to be fast!
Focus on your breath to turn yourself on fast
By focusing on your breath, you will easily get out of your head. Close your eyes and breathe slowly and deeply. You can also try different breathing patterns – like, holding your breath in for five seconds and see what feels best for you.
Compile a stash of erotic clips, images, and/or stories
You should have a private file on your phone – compiling many things that will turn you on immediately. Put on your earbuds and listen to hot stories or sounds while you scroll through pictures and clips that do it for you.
Take a hot shower
Okay, we all have time for a shower, right? So, when you are already wet, slippery, and soupy, glide your fingers over your most sensitive areas. Use your fingers, washcloth, or sponge to turn yourself on. You do not even have to masturbate yet, but focus on touching yourself sensitively. Caress your thighs, chest, nipples, neck, and all those small erogenous zones you don't pay much attention to when you masturbate. 
Girl, stop playing innocent and do it. You know it will work.
What are the things men (don't) want in bed?
If you are just a little curious about what men may crave in the bedroom, we get you. Men don't communicate a lot, so we are here to the rescue!
Okay, yes, we highly recommend you to initiate a sex talk because great communication means great sex. However, if you also want to figure out what you want to talk about before talking about it, well, we got you! 
Stop licking their face – men hate that
According to men, this is something just for the screens. You are not sexy and you won't turn him on.
Men want to take it out of the bedroom
They love variety. So, you need to keep it exciting by exploring new areas to have sex, such as the laundry room, kitchen table, in the car, or even outside. Playing in new places can lead to more fun. Also, you get the opportunity to role-play.
Missionary is not the only one sex position
Sisters, don't be lazy! Explore, there are many exciting sex positions you should try!
Initiate sex sometimes
Many men feel like they always have to initiate sex with their partners, and that annoys them. Men like to feel attractive and desired, so you should consider seducing your partner. If you initiate sex, you will send the message to your partner that you want him, and that will boost his confidence.
Squeeze his penis firmly when he is close to orgasm
If you are giving him a blow job, when you see that he is coming to the end, place your hand over the base of his penis (just below the bladder). Press firmly and rub back and forth as you massage the area. This will intensify things.
Move the hand and mouth in the opposite direction
It seems logical to move the hand and mouth in the same motion, but obviously, the logic is not sexy. Most men will feel better if you move your mouth and hand in the opposite direction – when the hand goes up, the mouth moves down, so that they constantly meet in the middle.
Men want you to actively participate
To actively participate you should grind your hips, meeting his thrusts with your thrusts, and flex your PC muscles. These things you can do from whatever position. Also, use your hands to squeeze his arms and pull his body closer to yours. Don't forget to use your lips to explore his body. These moves will let him know that you are into the action. 
They want to be dominated
Of course, they want to dominate you, but from time to time men want to do nothing at all. They want you to have control. If you are new to this, you can start by telling him he cannot touch, talk, or move unless he is told to. Tell your partner that you will punish him if he doesn't follow your directions or disobeys. Boss him around and tell him how you want to be touched. Directing his every move will make him squirm. Don't forget to remind him that you are in control.
What do women hate in bed?
For all the men out there not trying hard enough in bed, here are the things you are doing horribly wrong. Women hate some things in bed.
It has been said that sex is like pizza: even bad pizza is better than no pizza at all. But this is not right! No one is supposed to constantly endure things they hate in bed! 
Finding out what your partner hates in bed takes time, and most people have to gain trust before they will discuss their intimate desires. However, these are some things that most women hate in bed.
Women hate when you skip foreplay
Okay, guys, 10 seconds of kissing is not foreplay! No, neither is a short fumble around her breasts. Wait, save your eye rolls and groans. Women don't ask for an hour-long, hot massage (not that they mind!). It takes time for women to warm up and for their bodies to respond to yours. It takes more for them to get aroused, regardless of their age. Simply sticking it in looks amateur at best and selfish at worst. You will make your partner feel more objectified than wanted. 
Trying to last for hours
Tell us, do you want a masseur massaging one spot for half an hour? Well, that is how women feel when they have a marathon intercourse session. If you are still going after 12 minutes (which according to many studies is the perfect length of time for a session) check if your partner is still connecting.
Women hate when you insist on them to orgasm 
Sometimes it is clear she is not going to orgasm. Just read the room! We don't say that the reason is you; there can be many reasons that have nothing to do with you. Don't get offended if she cannot. And more importantly, don't insist!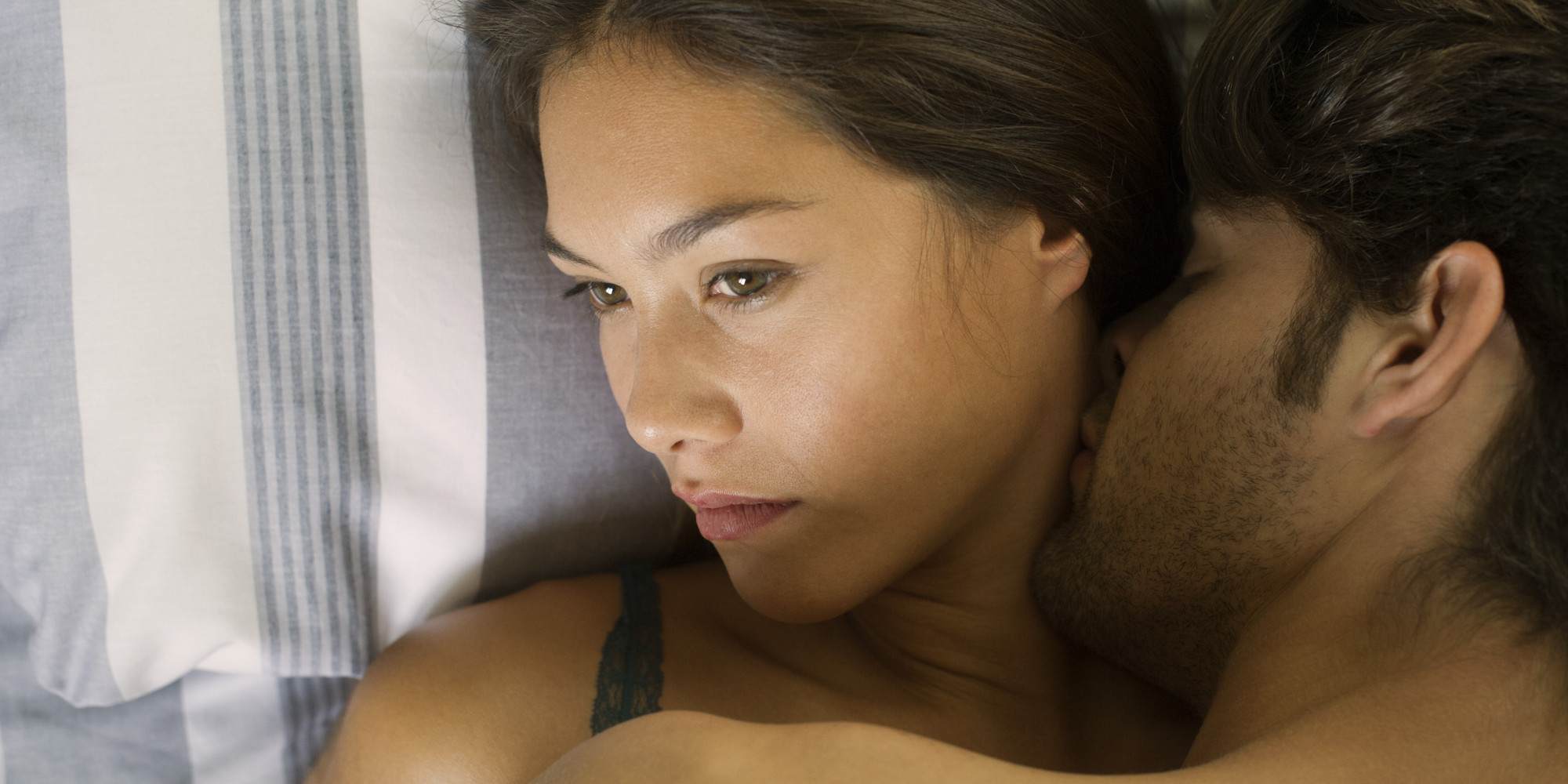 Giving her the silent treatment
You can be a hot guy who is amazing with his hands and everything, but if you are silent as a log, you are not as good as you think you are. Your partner will feel like you are bored having sex with her. Can you dance with no music? Well, that is like having sex with a mute. Maybe dirty talk is not your thing, but it won't kill you if you give her a moan or two. Women want to know they are pleasing you, and that you are still breathing. 
Women hate when you refuse to use condoms
IT seems like everyone is having sex without condoms nowadays. It is kind of scary. We are all for casual sex, but not for casually contracting an STD. Don't try to talk her out if your partner insists that you wear a condom. It is rude and inconsiderate! It does not matter if she is on the pill or you just got tested. Women are more physiologically susceptible to STDs than men, and not to mention the risk of unwanted pregnancy. We know that sex feels better without a condom, but life feels better without herpes. Also, do not try to get it in raw just for the beginning. Last we checked – chlamydia does not adhere to a ten-second rule.