The best adult Christmas games for the holiday season
This period before Christmas is hectic, with all the Christmas decorating, hunting around for gifts, meal-prepping, and so on. But at the Christmas party, or even on New Year's Eve, once all the gifts are opened, the food has been eaten, it is time to relax and have some fun.
Adult Christmas games will make sure your holiday parties have a lot of festive cheer and laughter. Challenge your friends to one of these fun games. 
The rules of these games can be modified for kids, but where is the fun in that? Don't forget to make a rule that the winner has to plan new, fun games for the next year. 
Holiday movie drinking game
This is one of the easiest adult Christmas games, but we are sure that it will be your favorite! Together choose a Christmas movie and then find certain actions, phrases, or words that will signal that you have to drink. For instance, take a sip every time someone says "Merry Christmas".  Get everyone excited to take a sip, by swapping out shots for glasses of ginger sangria, eggnog, or any other festive Christmas cocktail.
The caroling challenge
Sit in a circle, and one person has to start singing a line from a holiday song. The person to the left has to continue singing the next line of the song and so on. Choose some classics like "We wish you a Merry Christmas," or try more modern holiday hits like Justin Bieber's "Mistletoe," or Mariah Carey's "All I want for Christmas is you." The one who messes up the lyrics has to take a throat-burning shot!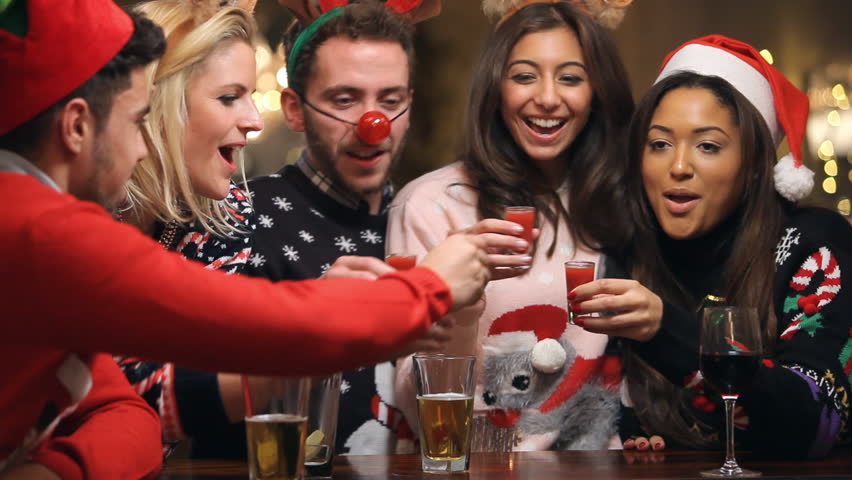 Christmas charades
This game is always fun, no matter how old you are! Also, charades are an amazing ice-breaker, and all the clues will be holiday-themed, you will keep your guests in a festive mood. You can easily create a Christmas-specific version by picking popular holiday songs, movies, and phrases to act out. Also, when you are playing this game with only adults, you can make the prompts as obscure and difficult as you want!
Holiday Hold 'Em
This is one of the adult Christmas games that will work best for an intimate get-together. So, if you have only 4 or 6 people over, this is the game for you! Print out the Holiday Texas Hold 'Em cards on cardstock and start the game! Yes, you can always play this game only with your partner. You know how it goes – you play until one of you is naked! 
Christmas scavenger hunt game
We know that you worked hard to decorate your home for the holidays, especially for your Christmas party, so it is the time your guests realized that with this fun game. Make a scavenger list that will have your guests rushing around the rooms to find as many Christmas objects as they can. The one, who finds the most, gets to give you a dare to the rest of you. Have fun!
What is it like to have a threesome?
Well, before having a threesome, you need to make sure the bed is big enough for all of you to sleep in together afterward.
Okay, having a threesome now is not the best idea given the pandemic, but the idea of more people in the bedroom stays the most popular sexual bucket list activities.
Our advice is to have a threesome in healthier times, but if you don't want to put your whole life on wait, just do that with someone you trust. Okay, now back to the most popular fantasy. And no, a threesome isn't a male fantasy that pop culture tries to portray. There are many reasons why women would want a threesome. So, no matter if you are a girl or a boy, you should be encouraged to explore it if it turns you on.
Whether you are in a committed relationship and you want to invite someone else in your bed, or you look to join a couple as their unicorn, or you just want to try something new amongst friends, a threesome is easier to have than you would think.
Yes, there should be planning involved, and the most important thing is that everyone is on board with the rules.
What actually happens during the threesome?
You don't have to be nervous – it's still sex, and you know that you enjoy having sex. But, you will probably start with some booze, so everyone can relax a bit. During the foreplay, of course, there will be a lot of kissing and going down on each other. You can go down on someone, while you ride the face of the other person. And then, you can try every sex position that you want.
It is your choice whether you will get fucked by both of them or you will just fuck them. But, you should be open to new things. You would never know whether you like your butthole to be touched unless you try!
What if the threesome doesn't go the way you'd imagined?
Well, at least you tried, and don't forget that everything gets better with practice. Wink, wink. It can be overwhelming and not as cohesive as you expect. But it can also be fun and balanced, and even a lot more fun than you thought it would be. If this is a fantasy of yours, we encourage you to try it!
Things to know before trying threesome
Everyone is stressed about whether it will be okay. But the more relaxed you are, the better the sex will be.
Be open to try new things. So, any hot ideas you have been too shy to try before, throw them in now! You are doing something outside your comfort zone, so lean out.
If you are a couple, don't make your unicorn your therapist.
Have extra condoms, even if it is one guy and two women.
Do not spend time spiraling in advance over what goes where and who is doing what.
Gwyneth Paltrow released her first vibrator
Gwyneth Paltrow is no stranger to selling a variety of wonderful wellness products, like her bondage-style bras, vagina-scented candles, and crystal-infused water bottles.
Gwyneth Paltrow on her healthy lifestyle platform Goop has sold vibrators for many years, but the brand has never created one. Until now.
When you think of Gwyneth Paltrow's lifestyle and wellness brand, Goop, expensive vagina-related products probably come to mind. Who remembers the gold vibrator that cost $15,000? We certainly do! Oh, and do you remember the controversial jade egg or the 24-karat gold sex toy? And no one can forget the instantly-viral candle – "This Smells like My Vagina" that sold out in two hours.
Well, this Valentine's Day, Goop added an item to their repertoire: the brand's first vibrator.
Meet Gwyneth Paltrow's extraordinary vibrator
She announced her vibrator with an original post on Instagram. It is a pink and white vibrator, which is sold for $95 on the brand's site. The intimate 'wand' doubles as a 'massager' and comes equipped with practical parts, such as a battery with an LED display. The vibrator has already sold out – and has a growing waitlist.
The new Double-Sided Wand Vibrator includes a bendy, slim end for internal or clitoral or internal stimulation and a ball-shaped wand for external vibrations. Both sides offer 8 pulsating patterns, and they vary in intensity. So, you will get 64 different combinations to choose from.
The vibrator's LED battery life is one of the features that you will appreciate the most. It allows you to see how much charge you have left, thus you will avoid the awkward moment when your toy dies just as things are getting so much better. Her team spent a year and a half developing the vibrator, and they accomplished creating a toy that is pure art.
They also wanted the vibrator to be user-friendly and versatile for anyone, regardless of people's experience level. So, the vibrator's pulsating patterns and unique sensations will bring satisfaction to an experienced vibrator user, but it will also be approachable for a first-time user.
Of course, the vibrator's silicone is "body-safe" and hypo-allergenic as well as chemical-free.
Sex is an important topic for Gwyneth Paltrow's Goop
Sex is always an important topic for her brand Goop. The media empire is constantly boosting interest in sexuality and health through a series of announcements, workshops, podcasts, and even Netflix's new The Goop Lab, which it's a must-watch!
Goop's marketing department insists that vibrators not only help you experience sexual pleasure but also improve sleep, mood, and reduce stress.
Gwyneth Paltrow's brand always aims to help eliminate shame and encourage sexual exploration. Thira Burns, MS, Goop's director of product development, wellness, said "We start by listening to experts—and in this case, the best experts are women who are in pursuit of pleasure and seeking more. Through dialogue at past In Goop Health wellness summits, focus groups, and the response to our Netflix show, we learned that there was some simple utility missing from some of the most popular devices."
What are you waiting for? It's time for some intensive vibrations!
The sex scenes in "Bridgerton" are so important
In Netflix's Bridgerton, the sex scenes aren't just about naughty titillation (though we must admit they are hot): it's about identity, freedom, and an exploration of self.
Throughout Bridgerton's eight episodes, you will enjoy many sex scenes featuring locations from, a rain-soaked folly, a staircase, a beautiful stretch of lawn, and one very creative use of a ladder. 
Bridgerton is a handiwork of Shonda Rhimes. She adapted Julia Quinn's Bridgerton novels that were long known as "Jane Austen with sex". It is a hit, and if you still haven't watched it, we strongly advise you to binge-watch it immediately! But even if you did watch it, you should stay and read about the real meaning of Bridgerton's sex scenes. 
It's fun, sexy, and maybe a bit silly, but don't be mistaken – Bridgerton is far more interesting and subversive than it might first appear. The cast will make your eyes water. It boasts wonderful costumes, extravagant sets, and sweeping storylines. It is a joyful, soapy romance, so it will lift your spirits, something which we could all use right now.
Just be warned that you shouldn't watch this drama series with your parents! On Twitter, one viewer wrote: "Unwittingly watched #Bridgerton with my parents. It got too awkward mid-way through episode, 5 so I faked a coughing fit and went to get a glass of water…for the rest of the series. Learn from my mistakes, friends."
We won't talk about the actual storyline because we don't want this article to be full of spoilers. So, here goes our take on the sex scenes.  
Related story:
Bridgerton is a delicious tale of hot people and hotter sex
The sex scenes are not there just to be there – but they are important for the journey of the characters. Those scenes are here to tell the story of the sexual awakening that the main character is having. Her journey into discovering her sexuality flips stereotypes in many ways. Her character has been raised to be a lady, so most of those sex scenes are to show how she comes into her sexually. At that time, it was thought that it is improper to tell girls anything about sex. They were supposed to wait and see what happens once they got married.
Daphne experiences some things for the first time with Simon, and she doesn't know much about sex in general, but that doesn't mean she should be used in any aspect. During one erotic, rain-soaked assignation, one man whispers to his partner, "Do you like this? Tell me what you want." Don't forget that it is important to always get consent from your partner. And that you should care about what they want in bed.
Bridgerton is an amazing feminist TV project
The oral sex between Daphne and Simon was focused on her pleasure, which was a great change to the usual male-gaze we get in movies. So, what makes Bridgerton a feminist TV project is how all the sex is handled, openly reclaiming female pleasure and making its main narrative. Every woman in this world is allowed to enjoy sex without even the smallest hint of shame or self-consciousness.