Why your dog isn't listening to your commands?
Although most dogs want to engage with their owners and are willing to please them, don't forget that the dogs are opportunists. There are times when no matter what you do, something else is more interesting to them.
Your dog would rather take the steak right off your plate than lie on their bed. But, there are no bad dogs – there are dogs that lack training.
If you think your dog is not interested in listening to you, you might want to question yourself what is the reason for that. Usually, your dog isn't being strong-willed or stubborn – it can be a training or communication issue.
Weak rewards
You've likely met the dog that performs obedience commands and tricks simply because it loves his owner. But most dogs are not going to do something just because they love you. They are likely to do what provides them with the highest reward. If you tell your canine friend to be calm and offer a delicious treat, your dog is going to oblige, just because they're getting something out of it. But, if you tell your dog to sit and offer nothing, they may just ignore you. 
Shaping behavior with treats, toys, and food is important in the foundations of obedience training. You need to make obeying commands fun for your friend to make them find joy in working with you. 
Lacking consistency
Every trainer, regardless of their experiences and methods, will tell you that consistency is probably the key aspect of training. The more consistent you are, the more useful the training will be. Consistency provides clear rules for the dog to follow with every specific behavior they learn.
That means it's easier for them to understand what you want and follow through with it. And we must be extremely clear in our training since this is the only possible communication with our dogs.
Too much training
You can get a little carried away when you are teaching your furry friend something new and exciting. It's important to remember, especially when it comes to young dogs, that patience is a virtue. You can easily overwhelm your dog with many commands that are too complex. 
Asking too much of your dogs too soon results in burnout for both owner and dog! Take a step back if your dog isn't listening and ensure you aren't asking too much. Sometimes the dogs don't understand a command, so take a moment to revisit older behaviors.
Many distractions
A park full of other dogs and people is different from the inside of your living room. Your dog is in your home daily, but he doesn't see many other things daily. What you don't consider as a big deal, might be a big distraction for the dog. If your dog behaves well at the park unless there is a baseball game going on, then you know that a baseball game is a distraction for your pet and you'll need to work up to that level of disturbance.
No consequences
Dogs need consequences just like people do. Sometimes the dog will choose to disobey regardless of the reward, no matter how well-trained they are. Besides withholding the toy or treat, giving a correction is your dog's consequence. The correction is needed to teach your dog that good behavior comes with rewards, while bad behavior comes with negative consequences. Many trainers believe this makes training clear to dogs and gives an easy way to communicate and teach them.
5 signs showing your dog needs a professional dog trainer
Don't be ashamed of that, it isn't a bad thing at all. There are minor issues that can turn into big problems. These issues may not even seem like behavior problems to you now, but they can grow into major disturbances.
Most dog owners need to go to an obedience class or hire a professional dog trainer at some time, whether they'd like to admit it or not.
Your best choice is to hire a professional dog trainer at the first sign rather than wait until someone is harmed. Even if your loving dog means well, bad behavior is frowned upon and it can lead to legal issues. It's only our responsibility to ensure our dogs are good canine neighbors! So, if you notice any of the following signs, you'll need to hire a dog trainer.
Pulling on the leash
This may seem like a minor behavior, but it can grow into something more. First, if your dog constantly drags you around, it is uncomfortable and annoying. But most importantly, this means you're not in control at all and the dog will take you wherever he wants to go.
Heavy pulling can strain your muscles and it can even drag you to the ground. This is dangerous for everyone around, not only you, especially when your dog will notice a strange person or another dog.
Jumping
When dogs jump, they show their affection and love, but it's extremely inappropriate. Jumping may hurt. People around you don't want to be knocked over and scratched. Also, this can lead to serious injuries. Even if your dog is friendly, make sure your dog knows that jumping on people is not an option. To be a responsible dog owner you need to show your dog ways to display love and affection that don't hurt or scare anyone.
Nipping/Growling
Nipping and growling are the earliest signs of aggression in dogs. Dogs that started with light warning nips and growls escalated into full-blown attacks. So, the most serious bites come from those nips and growls. You need to teach your dog that behavior is unacceptable, no matter when or why the dog has nipped or growled at anyone. This is a warning sign indicating to hire a professional trainer immediately since this danger could pose if it escalates.
Guarding objects
Even if someone is trying to take your dog's favorite bone, he should never bite or growl at anyone. Resource guarding is a serious problem and should be addressed by a trainer instantly. The dog might decide to resource guard anything from a treat, toy, bone, to bed, chair, couch, etc. This means the dog is claiming that a particular item is his or hers and will be aggressively defended if needed.
Door bolting
Door bolting is a serious issue that many dog owners face. This is considered a serious problem since it poses a safety concern to both the public and your dog. When your dog escapes from your house, he could easily wind up in dangerous traffic or run far away. Whatever his or her reason is, the dog should know to stay inside your house unless you release him for a walk.
How to train your hyperactive dog
High-energy dogs are charming for their happy temperaments and big personalities, but shelters are full of former pets deemed "too much to handle."
If you go on two walks daily and spend many hours playing fetch, but your dog is still running around you, then welcome to the club of owners raising a hyperactive dog. 
These seemingly tireless canines are a joy to have them, but admit it, training that wriggly mass of fur was very hard. If you are an owner of a hyperactive dog, don't give up on training. Instead, try the following tips to focus your dog's energy on learning new skills.
Exercise before training
Imagine a six-year-old forced to sit in school all day without taking any breaks for recess. They'll flounder in their seat and do anything except what you want them to do. That's exactly how your dog will behave if you try to train him without first releasing some of his energy. The training sessions need to be structured times when the dog has a full focus on you. Your chances are higher at keeping his attention if you schedule your sessions for right after he gets back from his walk or after a rousing game of fetch.
Make training fun for your hyperactive dog
If your dog is not interested in what you want him to do, you'll never be able to force him to do anything. The dogs must have the desire to train with their owners. The best way to do that is to make the training fun. If the dog expects to be yelled at or if you're going to end up frustrated or mad, he will not be willing to participate in the training. Make it a positive atmosphere by being enthusiastic and upbeat.
Plan your training "Curriculum" for your hyperactive dog
The first commands you teach him should be ones that will make future training. One of the biggest problems with training hyperactive dogs is they get too excited during the training, and they can't concentrate on what you're saying. If you experience this, you need to focus on skills that improve impulse control. "Leave it," "go to your mat," and "calm," are all obedience tricks that will definitely come in handy when teaching other skills.
Take advantage of learning opportunities
When they want something, no matter what that is, you need to make them work to get it. If they want to eat, make them sit and "leave it" before allowing them to dig in. If they want your attention, just start scratching when they've shown you how well they've mastered the "calm" command. Making them earn things daily will keep their bodies and brains working to spend more energy.
Learn the power of redirection
When your dog is barking, running, and jumping, you as a frustrated pet owner probably try to stifle that energy just to earn a second of calmness. However, punishing the dog isn't going to help. You should redirect the activity instead of trying to stop it. Hyperactivity is usually connected with an eagerness to please and a keen intellect. So, if you give your hyperactive dog a task at which he can use his never-ending energy, it is a win-win! Your dog will be still excited and active, but he will be doing something productive. 
Training a hyperactive dog will take commitment and patience. It won't always be fun and easy, but it'll be definitely worth it. Don't let small backsets disappoint you. Don't give up on your dog.
Pets and children development
If you had a pet while growing up, many heartwarming memories are probably experiences with your beloved pet, like playing, petting, feeding, or sharing your secrets with them. Now, you cannot imagine a life without one for your children as well.
You shouldn't deprive your children of the joy a pet brings! Many studies have proven that pets help children in the development of positive values.
They are great companions and friends for children that will show them how to express love by being gentle, petting, kissing, or hugging.
You just need to make sure your pet is healthy, besides being well-behaved. Take them for regular veterinary visits. Keep your pets on parasite preventives to ensure they won't spread anything. To do these things so you can relax and enjoy the benefits your pet offers your children.
Learn responsibility
We know that you'll be responsible for your pet, but your children will participate in their care and they'll learn good habits. Assign them different tasks weekly; they're more capable than you think. Children will learn the responsibility of taking care of someone that relies on them. Responsibility is a valuable skill for later in life. 
Increase self-esteem
The responsibilities around the pet will give your child a sense of personal fulfillment and help them feel competent and independent. Also, the attention and love bestowed on the children by their pets feel special. They'll be more confident and more likely to develop high self-esteem.
Encourage physical activity
When you have a pet in your house, your children won't spend their time on the computer and television screens. They'll interact with them. Also, they'll be spending more time outside playing with them. Any type of physical activity is good for a child's health.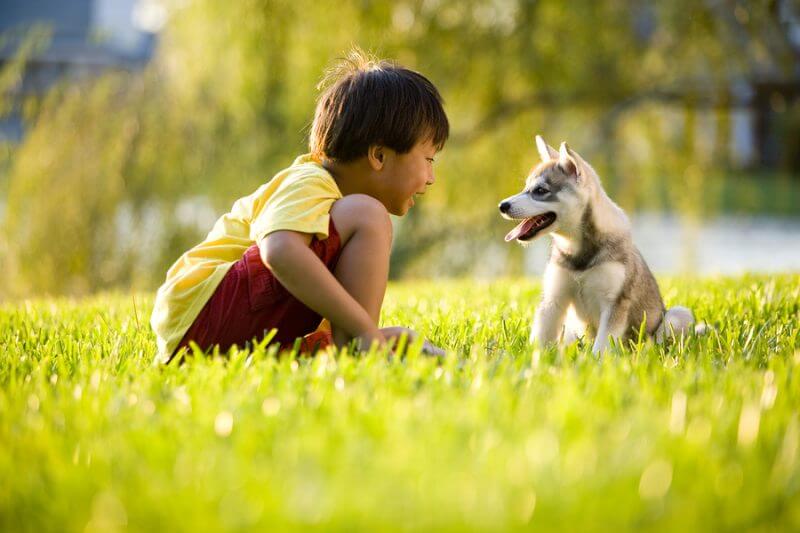 Enhance social skills
Children will work on their social skills but without any pressure. When playing with their pet, they'll talk to them. In this way, pets help children in the development of their oral competences and acquire the language.
Also, children who grow up with a pet will be less afraid of animals in the future. They'll become familiar with animal behavior that will make them less worried about unknown things. Pets will also teach your children trust. As they spend more time together, children will trust their pet and this will help them build trust in their other relationships.
Help with reading
Children love to read to their pets! Well, pets make amazing reading friends. Children may get nervous when they read in front of other children or adults. So, this would be an enjoyable experience for them. The loving, non-judgmental nature of pets makes its magic and helps them try harder, open up, have fun, and relax when reading to a calm and friendly pet. This will beat their shyness as well.
Develop empathy
When you bring a pet in your home, you'll bring another living creature's emotions and needs. Your child and pet will bond and no other connection is purer than this. When they feed another creature and take care of it, they'll develop a strong sense of empathy. Understanding the feelings of others is an important skill to learn.